The Cabinet of Ministers of Ukraine has launched the system of electronic filing of petitions to the governmen, Prime Minister of Ukraine Volodymyr Groysman wrote on Facebook.
For consideration by the Cabinet, the petition must receive at least 25,000 votes in not more than three months from the date of promulgation.
"We continue the introduction of modern tools of e-government and e-democracy at the level of the Cabinet. Distribute! Looking forward to your suggestions and ideas for the development of Ukraine", wrote Groysman in Facebook.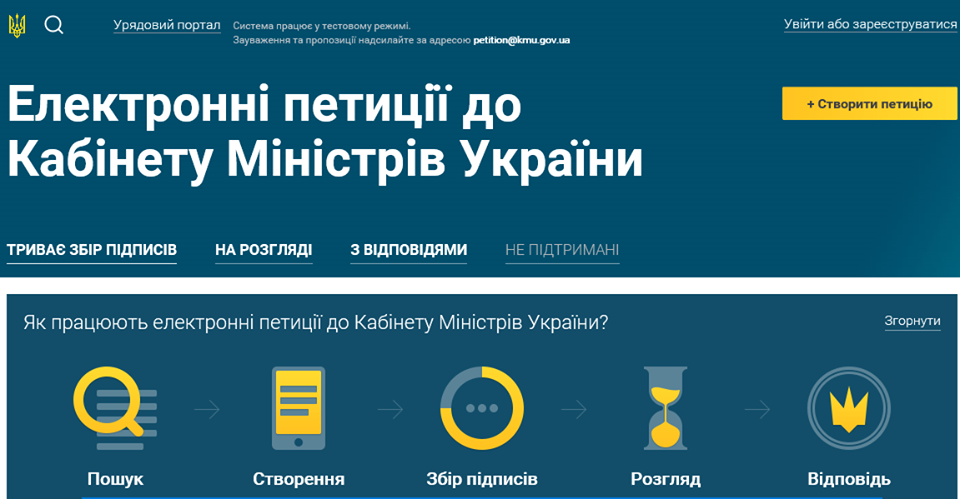 In addition, the Deputy Minister of the Cabinet of Ministers Mikhail Titarchuk, said: "This year, Ukraine has shown the best dynamics among the other countries in the world in e-government development. Compared to the year 2014 we got 25 points in the rankings, and took 62 place among 193 countries. This means that e-democracy is on the right way. "
According to him, the first day of the nearly 200 petitions were filed to system, 120 of which have been published on the website, others are on moderation.
The system is available at the link.
We also recommend you read: Kharkiv Regional Council launches e-petitions service, Now a petition to the City Council can be submitted online, Residents have written more than 500 petitions.