Time. 12:00-17:00.
Price. 111 UAH.
Menu. Argentina Grill offers salad; a choice of chicken steak, steak from farm meat or steak with cheese chopper; garnish is also in several variants – sliced potatoes in the peel, french fries or grilled saté vegetables. It is worth noting that there is no drink included in lunch menu. You can order any drink from the menu at an additional cost. By the way, the restaurant offers excellent Argentine wine, you can also ask to prepare the mulled wine with it (what we actually did). In general, portions are not big, but satisfying.
– Cold Snack – standard. This vegetable salad with fresh vegetables and lettuce. It is most probably seasoned with apple vinegar, without oil, the taste is not trivial,  a bit spicy. In general salad was juicy and refreshing, just as it should be for vegetables.
– The side dish. We chose potato slices in the peel, and grilled vegetables. The potato was not greasy, with pleasant crisp. Grilled vegetables – juicy, but the taste is not bright. However, they had a specific grill flavor which was a really good accent.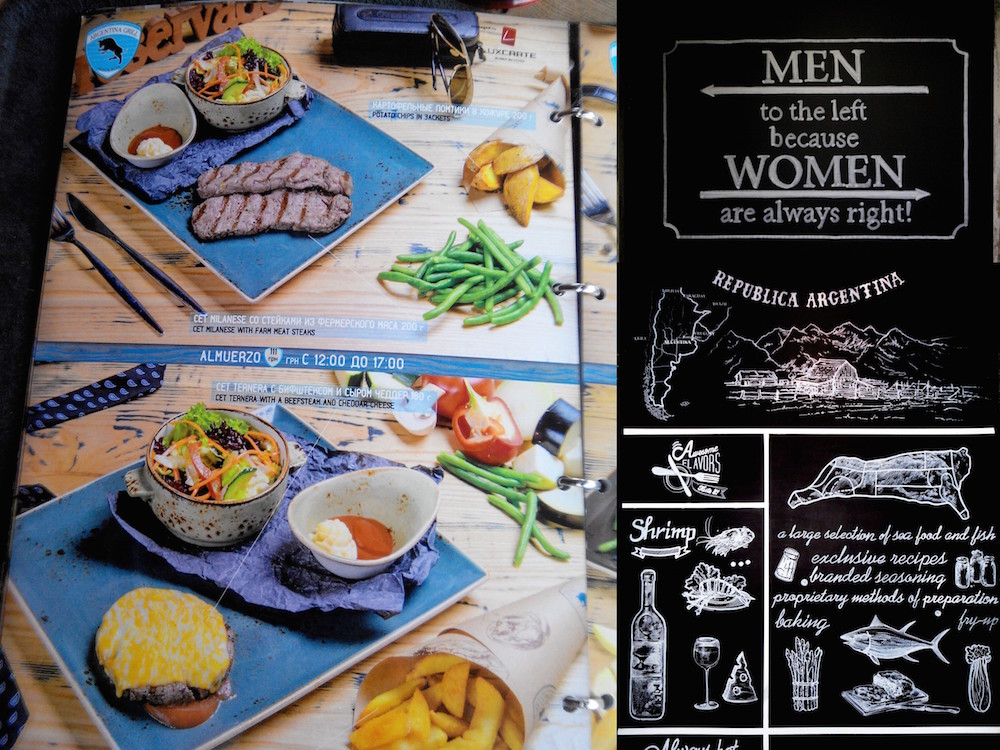 – Meat.  "Argentina grill" presents itself primarily as a meat restaurant. So, here we are going be rather strict. We chose the steak meat and farm cheese steak with chopper. We had a quite juicy steak (steak – a dish of chopped marinated meat cooked  with "blood" on the grill), medium rare, soft, easy to cut, but the meat did not have an expressed taste. It all could be rescued and fully compensated by a good sauce, but we did not get one. The lunch included only the usual ketchup and mayonnaise. You know here, in Ukraine, we call it "kechunnaise". Not solid, guys!
Speaking about the beefsteak, we should mention that it was nothing more than ok, although the cheese seemed odd. Perhaps it could be better served with another kind of cheese? Anyway, we were not big fans of the cheese at all.
Service. There is a smiling friendly hostess. The waiters are also friendly, polite and very attentive to visitors. They ask for the feedback and are truly interested in clients' opinion. At the request they can advise on the dishes, carefully listening to preferences. The orders were cooked very quickly, less than 15 minutes. Actually the business lunch promo tells that is is prepaired in 11 minutes for 111 UAH. This seemed real. There is  also a button to call the waiter, which we personally believe deserves as a huge "like".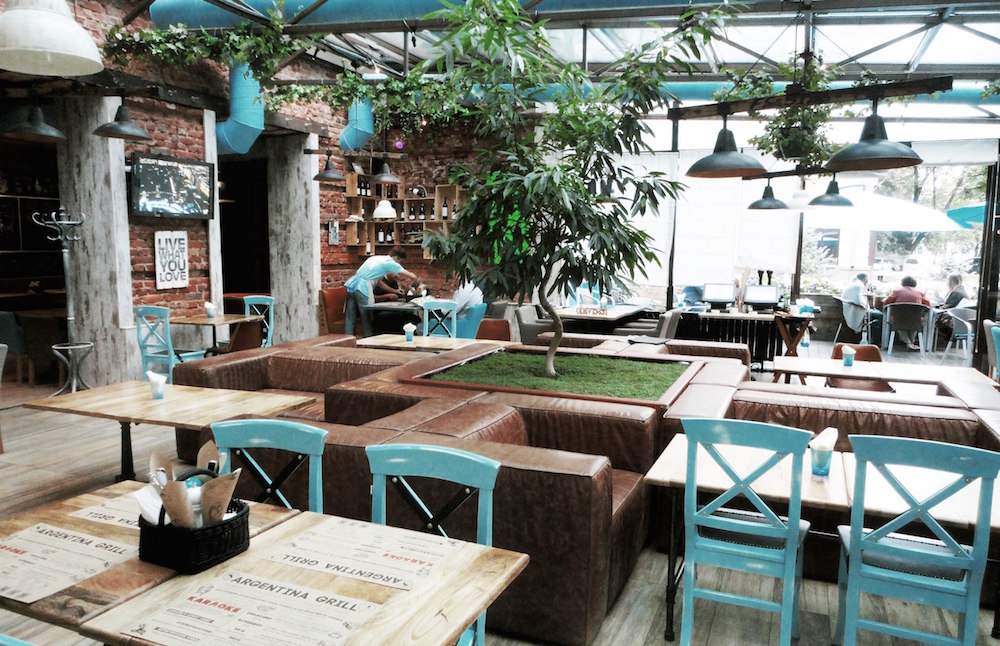 Interior and exterior. The restaurant is decorated in the modern loft style: masonry, vintage texture, designer accessories and soft leather furniture create a cozy atmosphere that calls up to a friendly relaxing talk. The peculiarity of the restaurant is a spacious room with huge glass windows and a panoramic terrace with beautiful fresh flowers.
Location. Centre. Lenina Street 20.
Type of cuisine. Argentine and Spanish cuisine. The main focus is «MEAT & SEAFOODS» (meals prepared on charcoal using innovative technologies: Argetina Grill, Spanish Hosper)
Music. Popular and classic hits, a good background for a talk.
Smoking. It allowed on the terrace. Inside, you cannot smoke, although there is a karaoke room, where smoking is allowed.
Parking. Street, free + cute parking for bicycles.
Discounts and special offers. Discounts for owners of Luxcarte
Payment. Cash and credit cards Visa / MasterCard.