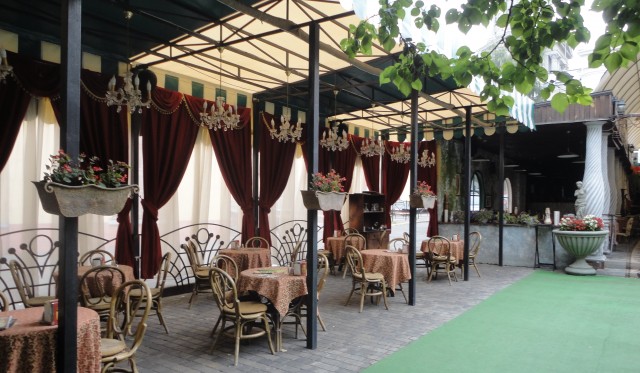 Please welcome our first business lunch review which starts the project. We are planning to visit different places around Kharkiv, giving you some useful tips about the best choices.
Business lunch hours: 12:00-17:00 (Mon-Fri).
Price for business lunches. 69 UAH and 79 UAH.
Menu. It offers two Business lunch menus. It is worth noting that there is no English menu for business lunches. Full menu – in two languages.
1) Choice of 2 salads, 2 soups, several hot dishes, coffee, tea, water, juice.
2) Buffet Format. "Grab the dish" – a salad bar with Russian snacks. You can choose as much snacks as can fit the plate; a choice of 2 soups, several kinds of pancakes; coffee, tea, water, juice.
The format and serving of lunches is for those, who like traditional Russian cuisine. However, even such admirers might have some doubts.
– Cold starter in both types of menu was acceptable. From the first menu, our choice fell on the vegetable salad (tomatoes, cucumbers, lettuce dressed with oil). We can assume the advantage of the second menu – the ability to take the amount of food that you want.
– As for the soups, both were "light", however, for somebody they might seem bland and tasteless.
– Main course in the first menu, in our humble opinion, was much better than in the second one. It was fried potatoes with spices, fried eggs and bacon. This dish was hearty, with rich flavor. In the second menu, we chose the pancakes with bacon and cheese. Cheese and bacon made a great combination, but the pancake was too sweet for such filling.
Service. The waiters are friendly, attentive to visitors. At the request can offer advice on the choice of dishes, listening to preferences. The order was prepared quickly, less than 25 minutes. No buttons to call the waiter.
Interior. The restaurant's interior is made in the style of 19th century (Russia), representing atmosphere and heroes of the novel by Bulgakov "The dog's heart". First floor is performed as a dining room of professor Preobrazhensky, mezzanine – is the library and the operating room, VIP-hall – professor's cabinet, ground floor – the favorite restaurant of Sharikov "Stoplight" for fans of the revolutionary moods of the early twentieth century. Interior items are household vintage things, thought out to the smallest detail.
Location. Center, Kvitki Osnovyanenko street, 12.
Type of cuisine. Russian-French cuisine.
Music. Uncertain, most French lounge, live music in the evenings.
Smoking. Allowed.
Parking. Street, free.