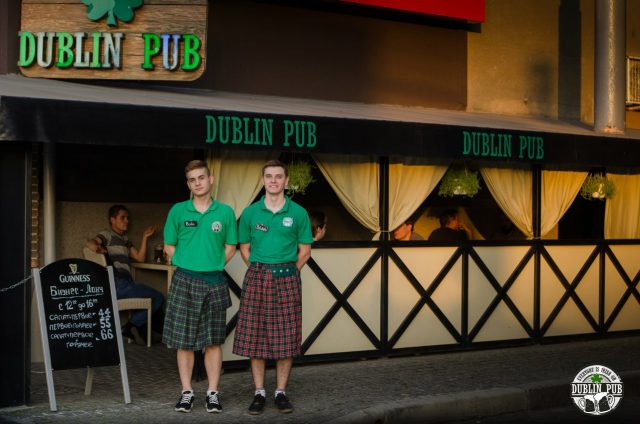 Time. 12:00-16:00.
Price. 44-66 UAH.
Menu. The restaurant offers a choice of three dishes in each position + a drink: tea, coffee, uzvar, Coke, Sprite or water. Dessert not included.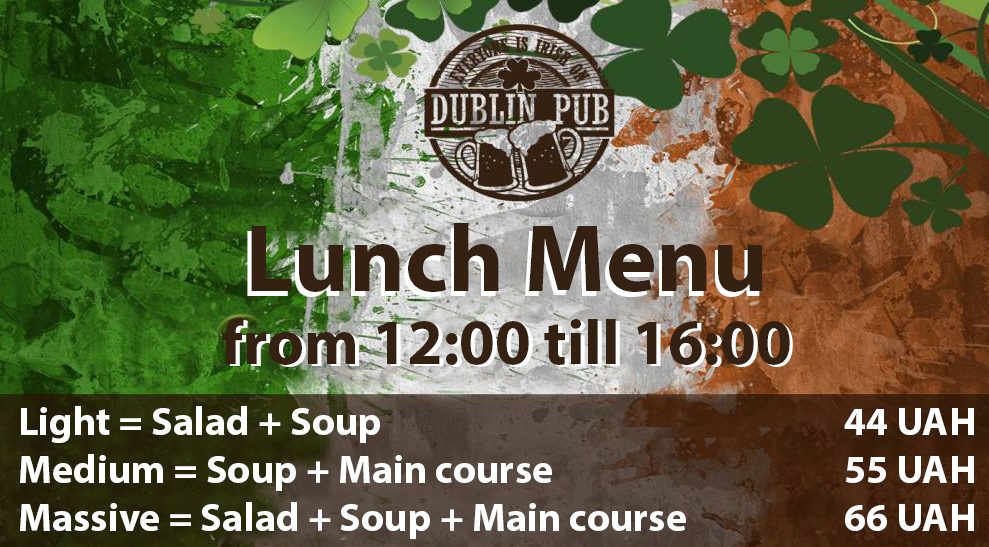 We have chosen:
Uzbek laghman + Caucasian salad with veal + Crispy pancakes with chicken and mushrooms + Green tea
Asian soup with squid + Vegetable salad with cheese and calf liver + Fried pork with baked potatoes + Coke
Lunch №1 

Lunch №2

Advantages

Disadvantages

Advantages

Disadvantages

Salad

Cheese matches the sauce  well

–
Fresh vegetables

–

First course

Nourishing, delicious, satisfying

Fatty
–

Very salty, it was impossible to eat

Second course

–

Tasteless. It looks like regular semi-finished products. Chicken and mushroom were a homogeneous mass, not slices.
Well done

–

Beverages

Pretty good

–

Pretty good

–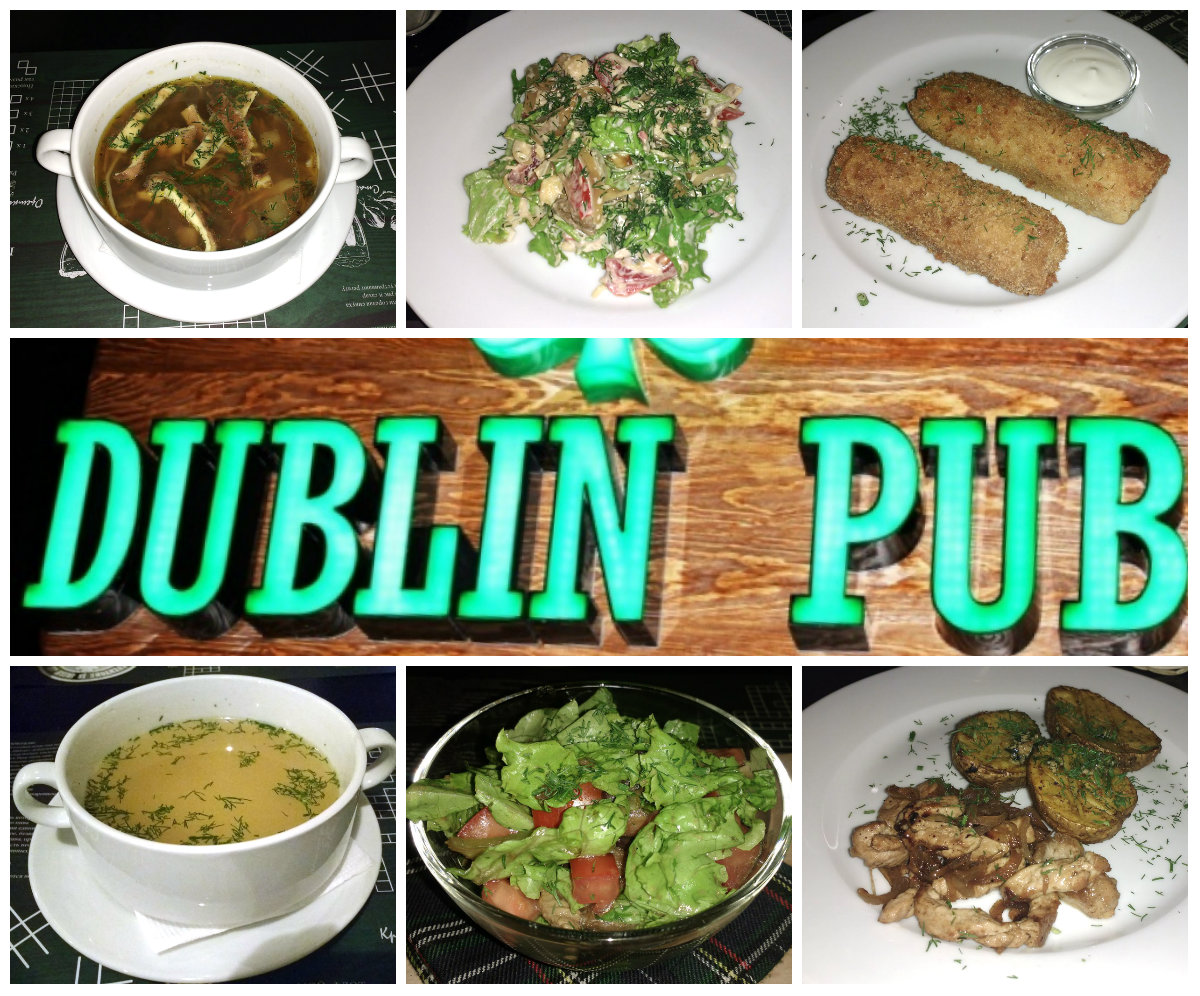 Service. The waiter was attentive, nice and very friendly. He knew the menu well, took away the dirty dishes on time.
Interior. The bar has several rooms and a summer terrace. The rooms with dim lights contain lots of thematic posters. License plates decorate the toilets of this place.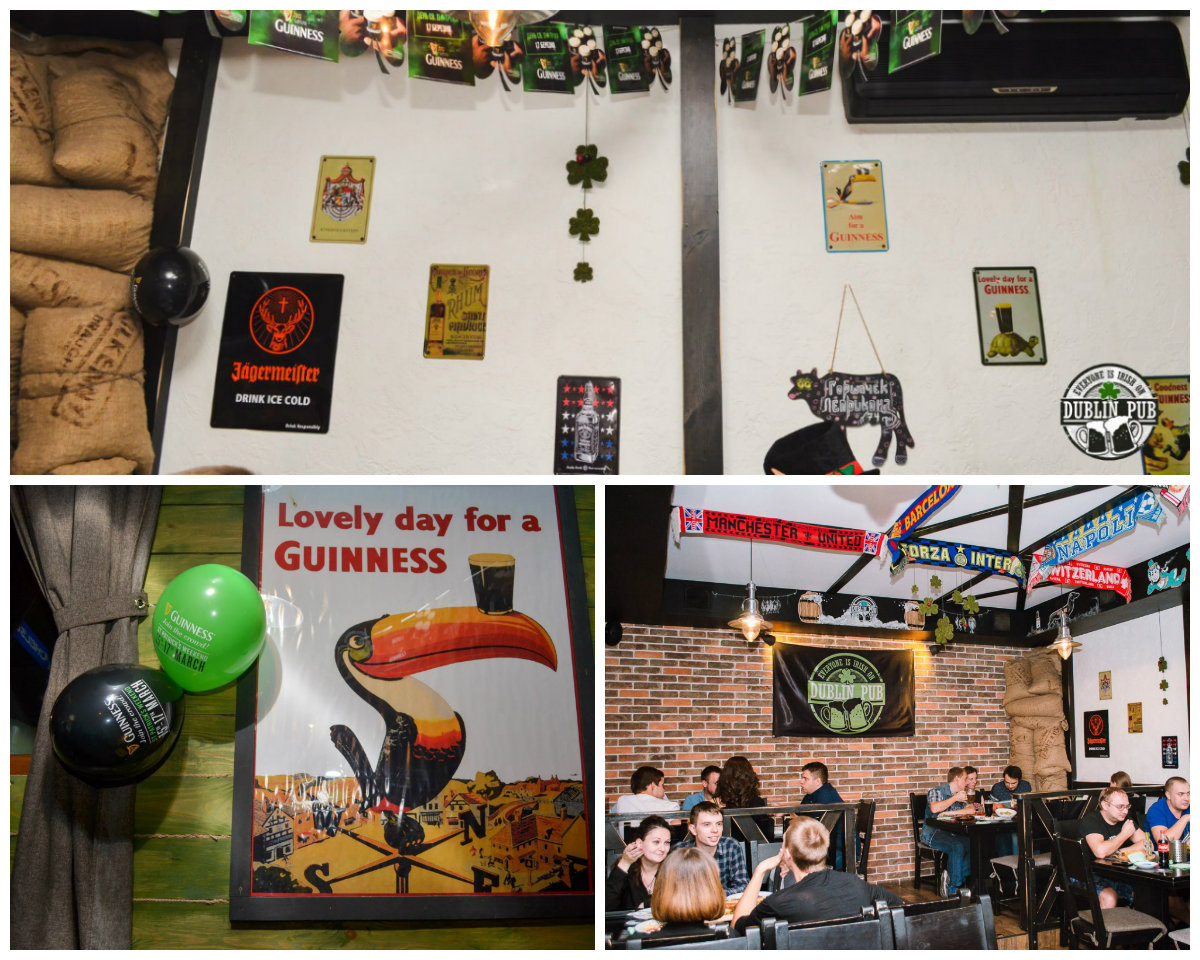 Location. Kultury street 17.
Type of cuisine. European, Irish and American. Regular menu offers various types of alcoholic drinks and snacks.
Music. Rock (very loud).
Smoking. Forbidden (allowed only on the summer terrace).
English menu. ✗
English-speaking staff. ✓
Parking. ✗
Free Wi-Fi. ✓
Payment. Cash and credit cards (Mastercard, Visa).
Summary. Nice home food (for lunch). At lunchtime there are noisy companies.  Despite some minor flaws, the overall score of this place is good. Also Dublin Pub well suits noisy drinking parties and watching football matches, so better come in evening to order big meat dishes for the company!