The National Bank of Ukraine presented the 20 hryvnia collectible banknote marking the 160th anniversary of Ivan Franko, a prominent Ukrainian writer, according to the NBU.
"The NBU launched its own numismatic program in 1995. Our coins reflect the history and traditions of Ukrainian people, nature, achievements, cities, architectural monuments and outstanding personalities of Ukraine. we present the result of our year-long work that displays our innovative and technological capabilities – the 20 hryvnia commemorative banknote" tells NBU Deputy Governor Yakiv Smolii.
He added that commemorative banknotes:
– will be put into circulation on September 1, 2016;
– the total issuance volume amounts to 1 million pieces;
– banknotes are denoted by a prefix consisting of two letters "ЦБ";
– banknote paper is manufactured from a combination of both cotton and linen fibers, so it enables the reduction of production costs and gives the paper its strength and durability.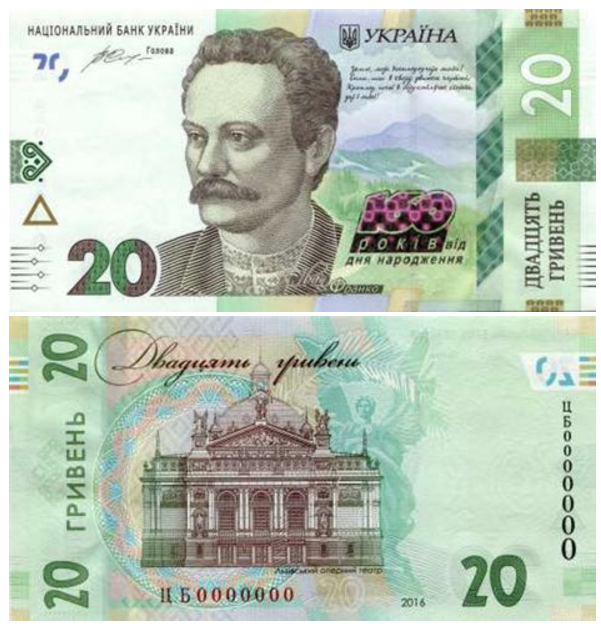 In the center of the banknote's front side there is a portrait of Ivan Franko; the back side of the 20 hryvnia commemorative banknote retains the image the Lviv Opera House as the core design element.
20,000 banknotes enclosed in the souvenir envelopes will be sold at the price of 31 UAH through the NBU regional offices. The remaining commemorative coins will be sold at 27 UAH.
We also recommend you read: Ukrainian hryvnia celebrates 20th anniversary, NBU strengthens hryvnia, but waits for the IMF tranche, Big Mac index: Ukrainian currency most undervalued.