At the city's heart, between the houses № 14 and 16 on Sumska Street, appeared an avenue of umbrellas. A cafe decorated this place, but it is positioned as a free photo zone for everyone, Dozor informs (RU).
A total of 32 colorful umbrellas are hovering in the air between two buildings. The new art installation attracts the attention of passers-by and is already being photographed.
The project's author Julia Barbaryan says such avenues are very popular in Europe. Now Kharkiv has one, with umbrellas Julia bought from one of the markets, fixed 3.5 m above ground.
"Here's a bright and unusual area appeared in the center of Kharkiv, where anyone can make a free photo. I wanted to create a place where people feel happy. I wanted to add some colors, something bright and sunny. Here are already photographed," says the author of the idea.
In addition to colorful photos, umbrellas can perform its main purpose – to protect passers from the rain or the heat of the sun.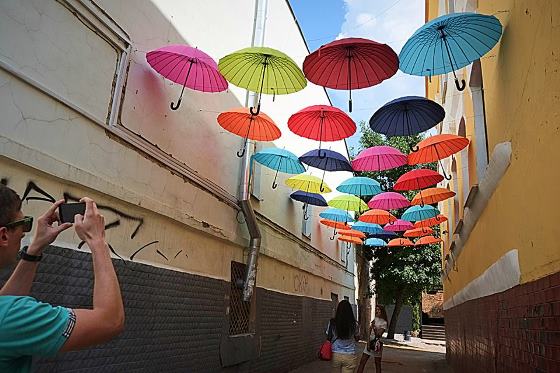 BACKGROUND: Homeland of installation is Portugal. A few years ago in the city of Águeda within Agitagueda Arts Festival appeared the first "Avenue of floating umbrellas".
We also recommend you read First Pokemon Go area appears in Kharkiv and What changes await Shevchenko Park?