30 trainees from around the world, who participate in the project "Feel Ukraine", shared their impressions of the Kharkiv and Ukraine, reports the press service of City Council (RU).
They shared their opinions during a press conference in the media center "Vremia" on July 28. Interns have lived a week in Kyiv and finish a week in Kharkiv. Then they will go to Dnipro and Odessa.
As the vice president of the international youth organization AIESEK, curator of the project in Kharkiv Irina Besarab said, young people have completely changed their views on Ukraine and, in particular, Kharkiv. The first stereotype that was broken concerned the people.
"It is believed that people are closed here, but they are convinced of the opposite. They approach to people on the street, ask something, and everyone answered them. Who does not know English, used one-syllable words. Kharkivens surprised them," said Besarab.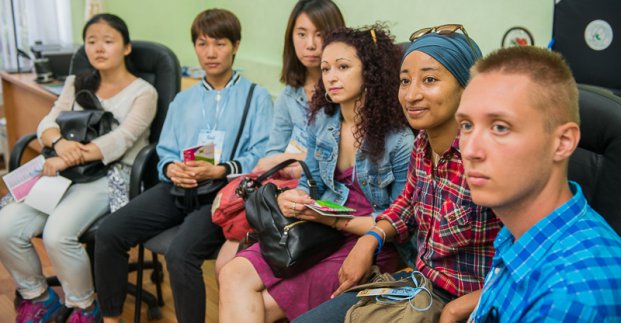 Rashid Abbasov from Azerbaijan noted that Kharkiv has good energy. He also said that he didn't feel the proximity of a military conflict.
"I have long wanted to visit Ukraine to see why many people want come here. Only two years ago, many people were afraid to come. But now it's different. People are happy, open. I liked Kharkiv more than Kyiv. As a future economist I interested in your enterprises. Think about to enter the magistracy," said Abbasov.
It should be noted that upon completion of the project will be created site "Feel Ukraine", where a citizen of any country will be able to read the opinion of each trainee of the 13 countries of the world. Thus, the organizers want to give everyone the opportunity to feel Ukraine.