In the first half of 2016, the freedom of speech situation in Ukraine slightly improved, according to data from an annual survey "Freedom of Speech Barometer" conducted by the Institute of Mass Information (IMI).
IMI experts registered 129 cases of freedom of speech violations in total, compared to 143 cases for the same period in 2015 (including the occupied territories and the Crimea – 154 cases compared to 175 violations in the first half of 2015).
Among the leaders of violations in the first half of 2016 are (non-occupied territories of Ukraine) Kyiv and Kyiv region – 38 cases (Kyiv – 35, region – 3), Odessa region – 11, Mykolaiv region – 10, Volyn, Dnipro region, Zaporizhzhia region – 7 and Donetsk region – 6.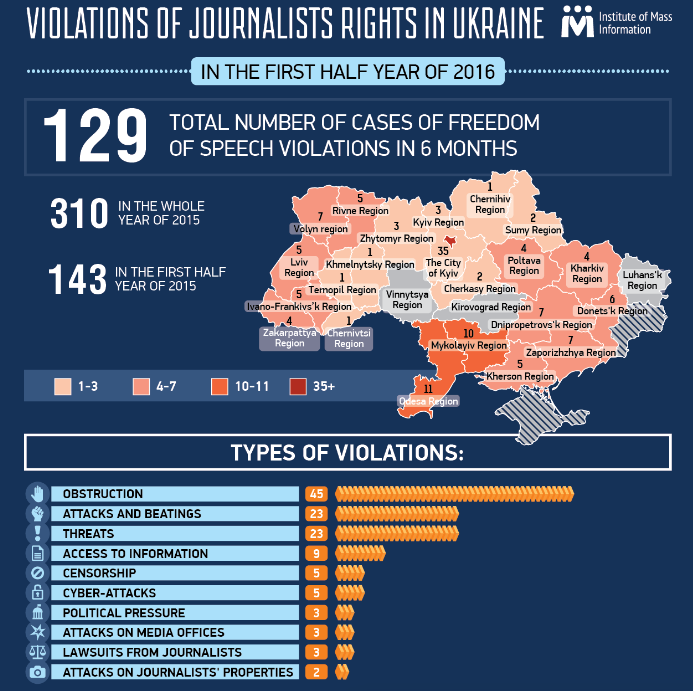 In general, the biggest violators of freedom of speech in Ukraine (unoccupied territory) were: ordinary citizens – 71 cases, the local authorities – 20 cases, officials – 8 cases. For comparison, the top three biggest attackers on journalists last year were individuals, the judiciary, security guards.
A full description of the cases that were included in the "Freedom of Speech Barometer" in the last month can be found here (UA).
BACKGROUND: Institute of Mass Information conducts monthly all-Ukrainian monitoring of freedom of speech situation called "Freedom of Speech Barometer" (UA) with support of Internews Ukraine program, NED, a network of regional experts of IMI is supported by the international organization Freedom House.
We also recommend you read: Analysis of Kharkiv's media unveiled, Kharkiv media on the second place by the number of materials misleading public, Ukraine to rise 22 points in the media freedom ranking.