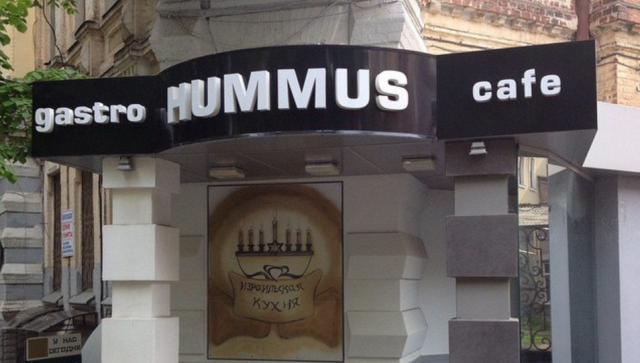 Time. 11:00-17:00.
Price. 15-65 UAH + dessert.
Menu. The restaurant offers a choice of four dishes in each position. Dessert not included. The restaurant type serving here combines with hearty and delicious meals.
We have chosen:
Olivier salad + borsch (with mutton) + beef stroganoff + compote
Caesar salad + chicken broth with cheese dumplings + fish cutlets with mashed potatoes + uzvar
– Salads. Olivier salad, unfortunetely, did not have a bright taste, but it wasn't bad though. The Caesar salad was at a top restaurant level and that was really stunning taking into account the very democratic pricing.

– First course. Light and very nourishing chicken broth pleased us with great taste. It had small chicken and wonderful cheese dumplings. Traditional Ukrainian borsch with sour cream was made according to all standards, a good example of this popular soup, although the meat was tough.
– Second course. Beef Stroganoff served with fried mushrooms and boiled potatoes. It was fine in general but the meat seemed too tough. We would not recommend to take meat dishes here. However, the chicken and fish ones are just perfect. Fish cutlets were juicy, tasty and very soft!

Drinks. Compote and uzvar were absent this day, so we took the ginger tea, which was awesome!
Service. The waitress was attentive, nice and very friendly. She knew the menu well, took away the dirty dishes on time.
Interior. Two rooms are decorated in the same style with neutral colors. The walls have Jewish symbols and you can try out hats with real Jewish sidelocks here!
Location. Centre. Mironosinska street, 57.
Type of cuisine. European, Ukrainiane, some Israeli dishes.
Music. Pop-remixes, lounge, Jewish lounge =)
Smoking. Forbidden (allowed only on the summer terrace).
English-speaking staff – not perfect.
English menu. ✗
Parking. ✗
Free Wi-Fi. ✓
Payment. Cash and credit cards cards (Mastercard, Visa).