On June 13 in Kharkiv the official opening of a new tourist route, called "Vyshyvany Shliah"/"Ornament Way", was launched informs Glavnoe (RU).
Its opening marks the Ukrainian bike ride: two groups of cyclists will start from endpoints – from Uzhhorod and Kharkiv – to meet each other.
At 10:30am at the monument to Taras Shevchenko in the center of Kharkiv came 42 true fans of cycling trips, to begin the grand-Ukrainian bike adventure.
Start of the bike ride was at 12:00. From Kharkiv participants of the "Vishivany Shliah" will go to Old Merchik, where they will meet local coordinator who will give a tour.
Then the group will go to Krasnokutsk. Overnight stop will be on the territory of the national park "Slobozhanskiy", there developed rich excursion program. Among the next stops on the route are Oposhnya, Poltava, Sorochintsy, Mirgorod, Pereyaslav-Khmelnitsky, Kanev, etc.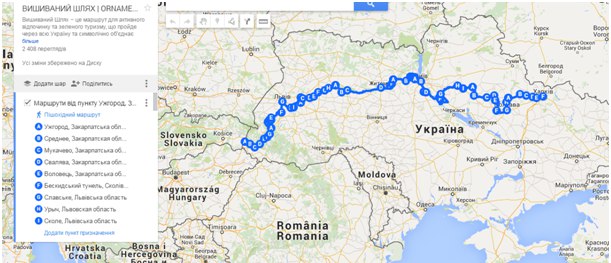 "Within 15 days the participants will discover unfamiliar Ukraine, ride by many interesting attractions and beautiful places. Group finishes on June 28 in Kyiv on Independence Square, where they meet with the cyclists who simultaneously rode the other half of the route – from Uzhgorod to Kyiv," told the organizers.
According to the organizers, those who wish to participate is not necessarily to ride the route "Vishivany Shliah" completely. Everyone can join the bike ride or stop participating at any stage. It's possible to join a group in any city and ride only part of the route.