Today, from 6:00 am public utilities began dismantling the pedestal of the Lenin monument at Freedom Square, reported Newsroom (RU).
The area surrounding the pedestal is fenced off with iron fencing. Inside the perimeter are about 20 municipal guards.
"The dismantling began from 6:00 am. We remove the concrete structure, it will take about 3 days. Then other workers will remove the layer of soil under the former monument and asphalt this area," said the representative of the company "Stroytehnoservis" Andrey.
BACKGROUND: Kharkiv city council has allocated 1.7 million UAH for the dismantling of the pedestal of the monument to Vladimir Lenin at Freedom Square. This decision was taken at the regular session of deputies of Kharkiv City Council on February 24, 2016.
The largest at that time Lenin monument in Kharkiv was brought down on September 28, 2014 during the meeting of pro-Ukrainian forces at the Freedom Square.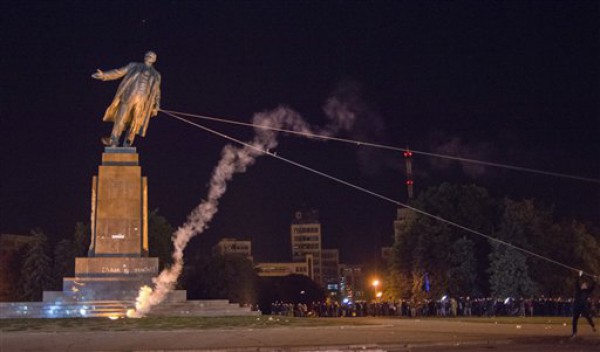 We recommend you read Kharkiv residents want to see the fountain instead of the Lenin monument.