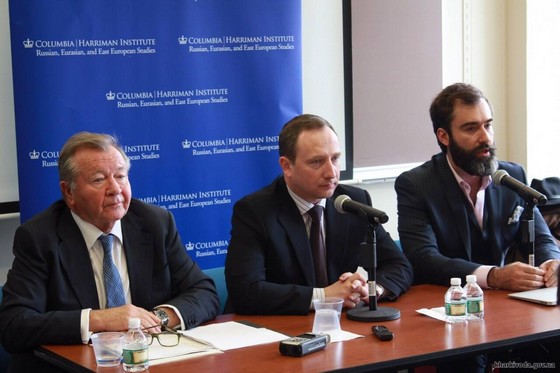 The ongoing battle to fight corruption and strengthen the Kharkiv region's territorial defences has been raised at the Hudson Institute.
Chairman of Kharkiv regional administration Igor Rainin spoke to students, teachers and experts at Columbia's Harriman Institute who study problems relating to young Eastern European democracies.
He highlighted the many challenges which have been aggravated in connection with the conflict in the Donbas.
Rainin spoke of the current security situation, measures to strengthen territorial defense and the fight against corruption in the region.
"We are not just fighting corruption but creating a preventive system," he said.
Among the steps taken against corruption prevention, which have already been introduced in Kharkiv, Igor Rainin named: two times reduction of the number of permits for business, introduction of e-government and e-procurement Prozorro.
Chairman intents all administrative services to operate on the principle of "single window". During the year, the list of the central bodies that we got moved to the local Administration Service Centres, has tripled.
Igor Rainin noted that such actions of the authorities increase the confidence of the business, which is beginning to emerge from the shadows.
After the lecture, Rainin held a discussion on the results of national and regional reforms in economic and security fields, anti-corruption strategy and experience of Russian propaganda opposition.
Particular attention was paid to the ways and mechanisms to further strengthen the US support of the Kharkiv region and Ukraine in general.