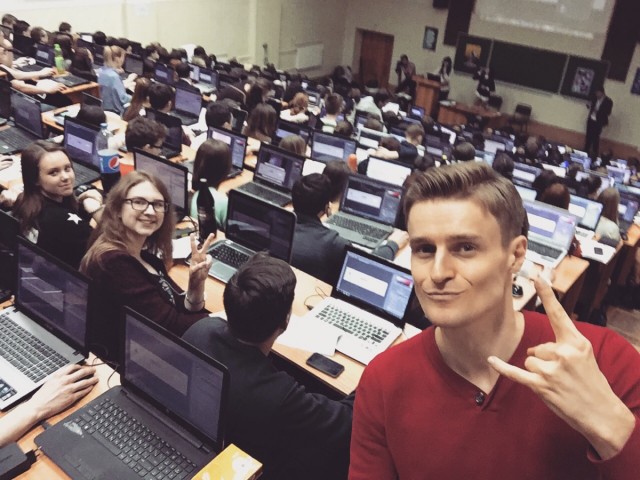 Last night, on February 6th, from 21.00 to 6.00 "Desigh night" was held at Kharkiv National University of Radioelectronics. The participants, started from scratch and without knowledge of special programs, just for one night made a landing page, and tested a new profitable profession of a web-designer.
"The project is not commercial, we did not even put money in this event. So our main goal was to help Kharkivens to master a new profession of a web-designer and improve their standard of living. Also we aimed to challenge other cities of Ukraine and start a chain of similar events across the country and abroad," stated the main organiser of  "Design night" Ivan Budko.
The event was not like just a master class, that was a night of real practice. 200 people opened Photoshop and started doing website design. Olga Jirova and Natalia Logvinova, experienced designers and founders of creative agency "Oscar", held the practical part of the event. As a result at 2.30 a.m everyone of 200 participants has made his own first landing page.
"The organisers were really cool and night went much better than I imagined it. This was so interesting that I was not tired and did not want to sleep, there were serious questions mixed with good humor… If today the night continued, I would have gone!!!" Anastasia shares her impressions.
In total, 1957 people registered on the event, about 300 people came and 200 of them passed the check list and finally became lucky participants. The audience simply could not place more than 200 people. Guys came to book a place since midday. The organizers did not expect such a stir.
"We challenge other cities of Ukraine, in particular, Kyiv, Lviv, Odessa. We give two months to prepare an event which will acquaint Ukrainians with any modern and profitable profession. The event should be free, run from 21.00 to 6.00 or longer," Ivan challenged other Ukrainian cities.
A huge number of people and organizations assisted in the organization of the event: volunteers, KhNURE, the city council, student cluster.
"As for me, everything went well. Of course, not everybody understood where he came and expected something other. I wonder how other cities would accept the challenge and what our citizens are capable of," Lena, one of the participants, told us.