February 6, more than 30 representatives of public organization "Sokol" held a protest demanding to boycott Russian business. They believe that these businesses are sponsoring country-aggressor. It was reported by IT Sector.
Young men gathered in front of department "Sberbank of Russia" on the Sumskaya Street. Protesters chanted "Suitcase – Terminal – Russia". According to the post in the group "Kharkiv hunta" on Facebook, activists have placed the label "Russian Kills!" in the department window and went to other offices with slogans: "Glory to the nation! Death to the Russian Federation!", "Ukraine above all!". Protesters held banners.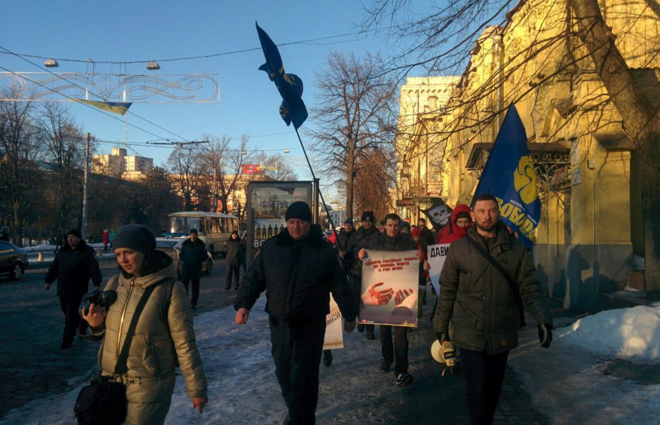 The activists poured red paint jar in front of the bank branch near the station "Maidan Konstitutsii". According to them, it symbolizes the blood of Ukrainian citizens who died in Donbas. "The paint will be cleaned up but the blood on their hands – never," shouted the protesters.
Similar events were also held in Kiev, Odessa, Dnepropetrovsk. Protesters held banners reading "Boycott the Russian gas stations", shouted "Boycott Russia!" and "Get out of Ukraine!". Activists believe that such actions are involved in the financing of the Russian aggression against Ukraine.