January 21-23, the first training within the project "Support to the development of communities" took place in the village Gaidary of Zmiev district. The project aims to support local authorities that are able to develop and implement programs for the development of communities. It was reported by the press service of the Kharkiv Regional State Administration.
During the training, representatives of local governments and 12 public territorial communities of the Kharkiv region discussed the features of decentralization and new technique development. They also reviewed international and national standards of best urban development practices. The participants paid special attention to studying the experience of the EU countries in the decentralization reform. The head of Kharkiv Regional Office, supporting the reform, Diane Barinova explains: "It is important that the participants of the event not only gain useful knowledge, but also review practical problems. Now we need to finalize and submit these projects to the sponsors".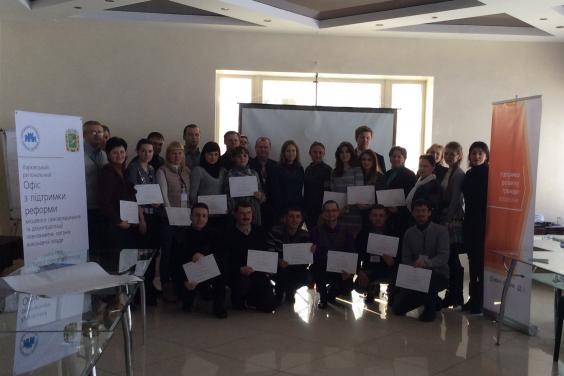 The project will be a 7 day workshop in January – April 2016. The second phase of training will be held from 28 to 31 January. Participants of the seminar will be 175 representatives of local authorities and civil society. As a result, international donors will fund the three best projects.
Reference. Ukrainian Institute for International Policy in partnership with the Ministry of Regional Development, Construction along with the Housing and Communal Services of Ukraine currently implement the project "Support to the development of communities from within". Support is implemented within the program "Ukrainian initiative to strengthen public confidence" (UCBI), which is funded by the US Agency for International Development (USAID).