On January 17th members of the patriotic organization "Sokol" held an action of renaming streets in the center of Kharkiv: Frunze, Olminskogo, Gudanova and Krasina streets, informed the organizers.
According to the decision of the session of the City Council, Olminskogo street was returned the historical name – Maksimillianovskaya street, and the street Frunze was renamed in honor of academician Bagalei. Members of the "Sokol" noted that despite the fact that the new names were adopted last year, the utilities still haven't replaced the street nameplates on the houses. Therefore, over the old names the activists pasted the stickers with the new names of streets.
In addition, on this occasion, "Sokol" "renamed" Krasina and Gudanova streets on Nikolay Kulish and Yumovskaya streets. The action was attended by activists from other patriotic organizations and non-indifferent Kharkiv citizens.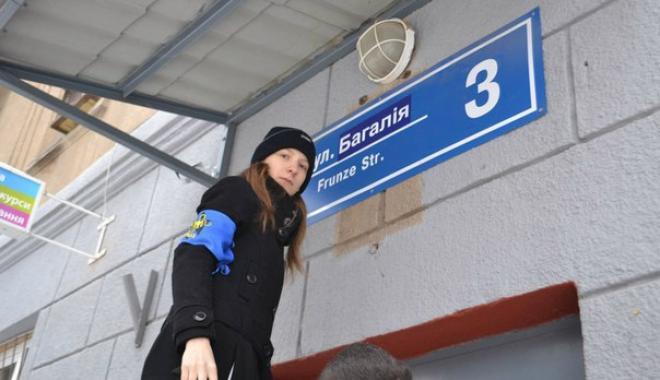 "It's logical Krasina street rename on Nikolay Kulish street – one of the brightest and most original Ukrainian playwrights. Gudanova street should be Yumovskaya street – the name it had since 1888. The oldest citizens still say "Eye Hospital on the Yumovskaya street." With this action we want to remind everyone that the history of our city is much deeper than they try to impose us, it is already more than 360 years old, not 75 … Kharkiv should regain its characteristic Ukrainian features and historical justice must be restored," said the initiator of the action Maxim Stolyarenko.