Maxim Gorky Central Park of Culture and Recreation will be opened to the public all night, the entertainment programs will continue till 4:00 a.m.
According to the artistic director of the park Yana Barkhatova, on the New Year night in the park will take place program "Winter, fabulous time…" which will start at 12.00 on December 31 and will last until 4.00 of January 1st. All day on the main stage will be held various performances: children's performances, competitions, performances of the theater of combat choreography, the show of the Brazilian drummers, a concert of the music band "Twist", a cover band UNIVER.
In the entertainment center for children will wait elves – helpers of Father Frost, who will conduct different workshops and games for them. There will also be a children's New Year show program and "Elf Party". On the main stage will be held a competition of children's costumes, and in the evening – a competition of Fathers Frost.
Everyone will be able to participate in the competition. The guests will choose the brightest costume and the winner will receive a prize. At midnight, with the beat of clock and champagne glasses will be started a flash mob "Gifts". All guests will be offered to exchange the gifts near the highest ferris wheel in the Ukraine.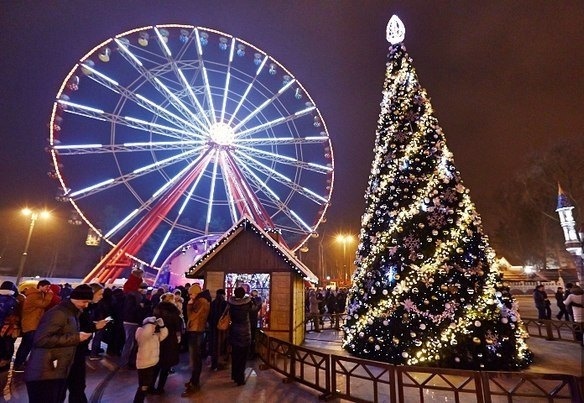 With the advent of the New Year will start the fire show and festive disco with contests. Note that the amusement rides in the park will work all the night until 5 a.m. of January 1st. The price of tickets for rides in the New Year's Eve won't change.
May this year bring new happiness, new goals, new achievements and a lot of new inspirations on your life. Wishing you a year fully loaded with happiness! Happy New Year and Merry Christmas dear readers!