The Kharkiv region took fourth place in the overall ranking of socio-economic development of regions for January – September 2015. This information is provided on the website of the Ministry of Regional Development, Construction and Housing and Communal Services.
The estimation was made in six directions. Among all regions of Ukraine, Kharkiv region took the following places in ranking:
1st place – renewable energy and еnergy еfficiency
4th place – efficiency of the labor market
7th place – economic efficiency
7th place –  financial self-sufficiency
11th place – development of investment and foreign economic cooperation
16th place – development of infrastructure
Thus, according to the analysis in the Kharkiv region capital investments increased by 4%, equipping homes with metering devices of heat energy increased by 55.4%. At the same time, foreign investment fell to 127.7 million USD.
According to the overall rating assessment of socio-economic development for January – September 2015, first place went to Kiev, the second to Dnipropetrovsk region, the third to Kiev region. Luhansk and Donetsk regions took the last place in the ranking (for calculation of rating these areas used the data only for the controlled territory of Ukraine).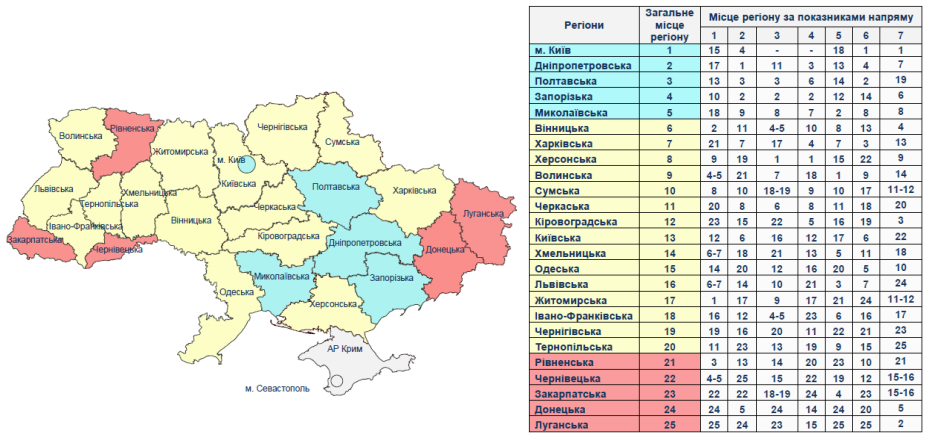 Table of indicators ids can be found here.
Reference. Valuations were based on 26 indicators characterizing the situation in 6 directions in various areas of socio-economic development of regions. The ranking is determined by the location of each region's individual areas and summarizes the rating place in all directions.