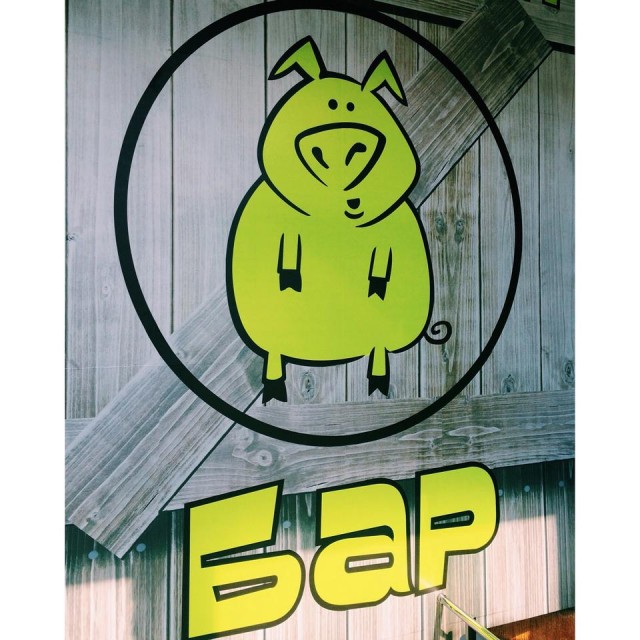 Time 12:00-16:00.
Price. 44 UAH.
Menu. It changes every day and it is not possible to check it, unfortunately, however, we were very lucky with our meal. We did not expect much from the pub as it is not considered to be some fancy place, however, I was really surprised with the good quality of food for such low cost. Also it is important to note that the number of dishes was quite big (again for this low pricing).

– Snacks. As a snack, we were offered the black bun with fat (salo) mashed with garlic and spices. It is a common element of traditional Ukrainian cuisine, which, as you know, is not from dietary ones.
– Salads. We got a simple vegetable salad (chopped cabbage with cucumber, dressed with oil), though it was rather tasty.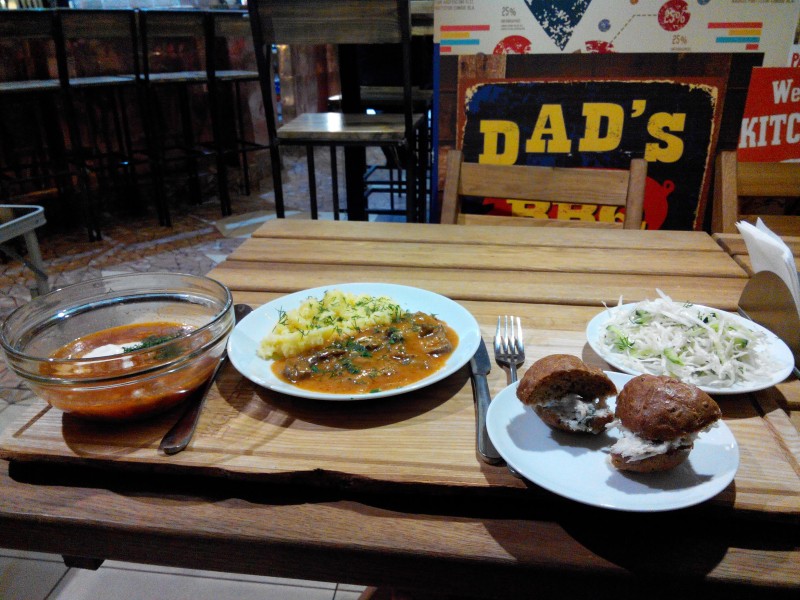 – First course. Traditional Ukrainian borsch with sour cream. It was made according to all standards, a good example of this popular soup.
– Hot dishes. Beef Stroganoff with mashed potatoes. Though I am not a big fan of beef, this dish surprised me a lot – the meat was melting on the tongue, the sauce accompaniment was amazing as well. The mashed potatoes is my weakness  was just perfect.
– Drinks. Cold ginger-beer, which was very fresh and good. You could also choose beer, tea or coffee as a drink.
Service. Self-service. The staff is friendly, you can expect for the good advice on the meals and drinks offered. The waitress brought us the food and drinks rather fast. However, your will need to put the dishes away yourself after lunch.
Interior. A typical loft pub has many bar tables and chairs but you may find some more cozy tables for bigger companies. The bar has many funny pig theme posters along with some comic ones from the soviet epoch. The WC is a very creative place as well =) The pub has many games like darts, table soccer, which are good for funny evening with a big good company of friends.
Type of cuisine. Ukrainian, European, beer snacks.
Music. Some modern rock and pop stuff.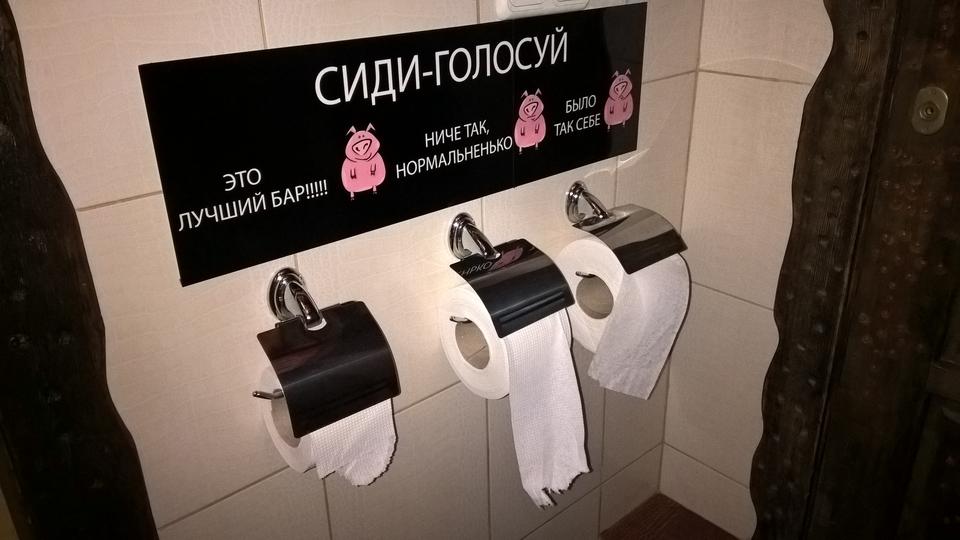 Smoking. Forbidden.
English menu. Though it was absent, the staff can speak English and I have noticed some English-speaking people having some beer that afternoon.
Parking. No parking.
Payment. Cash and credit cards (Mastercard, Visa).