October 31, more than 200 representatives of Syria, Iraq, Iran, Lebanon, Palestine and other Middle Eastern countries gathered at Freedom Square. They expressed their solidarity with the Palestinian people in their struggle against Israel.
"We are against the Israel aggression, iniquity of the country and the actions of radical Jews against Palestinian civilians. The victims of years of armed conflict are innocent women, children and elderly people who have taken their land and holy places," – said the head of the Palestinian diaspora in Kharkiv Nidal Al Astal.
The activists chanted slogans, sang patriotic songs and danced in support of the inhabitants of Palestine. The posters contained inscriptions: "Hands off the holy Al-Aqsa Mosque", "Glory to Palestine!" And "The fact that u survived fascism does not give u the right to kill Palestinians". The activists called on the international community to cooperate to stop the lawlessness. They also believe that Israel's actions should be regarded as war crimes.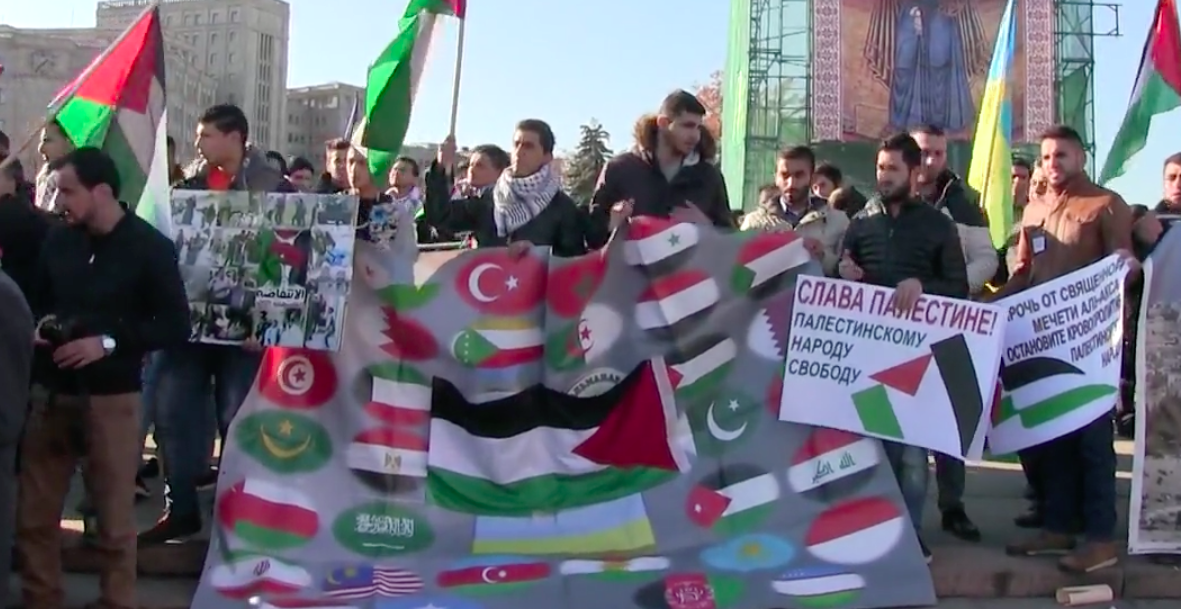 Historical reference. In 1948 on the territory of Palestine was formed the state of Israel. Israel occupied Gaza in 1967 during the war in the Middle East. A part of the state including East Jerusalem is home to many holy places for Jews and Muslims. In 2005, Israel under international pressure brought out its troops. The southern border of Gaza is under the control of Egypt. Israel has imposed severe restrictions on the movement of goods and people. Palestinians in Gaza feel under lock and suffer from social and economic problems. October 31, 2011 the State of Palestine was adopted by UNESCO.