Government officials and businessmen of Zibo visited Kharkiv for the first time to discuss opportunities and prospects for cooperation between the cities.
On October 21 the first vice-mayor Igor Terekhov held a meeting with the vice-mayor of the Municipal People's Government of Zibo Kvinying Zhang in Kharkiv City Council. The Deputy Director of Municipal Office of Foreign Affairs of Zibo Zhianzong Van and representatives of business circles also participated in the meeting.
Igor Terekhov welcomed foreign delegation on behalf of the mayor Gennady Kernes and noticed that for Kharkiv as industrial, technological and cultural center of the country is very important to develop international cooperation.
"We want to see representatives from different countries to work here and grow their business. We are now actively engaged in innovative technology. We pay attention to the development of all spheres of life of the city and do everything that Kharkiv become the best for business and comfortable life," said Igor Terekhov.
The Vice-Mayor of Zibo said that Kharkiv is the second largest city in the country thus China is very interested in cooperation with him. According to her, the two cities can give very much to each other. Zibo is an important industrial center with well-developed industries. Kvinying Zhang invited Kharkiv delegation headed by Igor Terekhov to visit Zibo. She emphasized that they would like to make two cities partners in the future.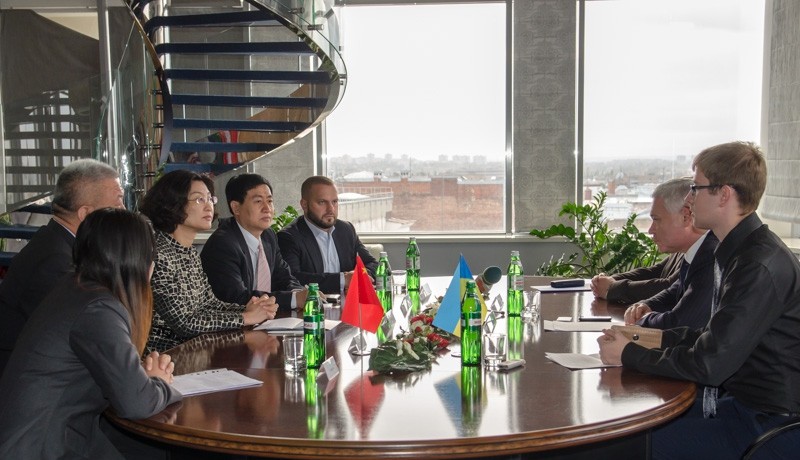 Igor Terekhov summed up that Kharkiv and Zibo will develop partnerships. The Departments of International Cooperation of the two municipalities will begin to cooperate closer so as trade and economic cooperation between two cities can starts.
Recall that Kharkiv has already partnered with Chinese cities Tianjin and Jinan.