Time. 12:00-16:00.
Price. 60-68 UAH.
Menu. There are 3 options – the price depends on the quantity of meals ordered. Just pay attention to the fact that portions are small, but very satisfying.
Fried rice or fried noodles + vegetable salad + juice
Fried dumplings or steamed dumplings + vegetable salad + juice
Meat dish (beef or chicken) + steamed rice + vegetables
We chose lunch №1 and №3.
– Salad. We were surprised that the menu listed "vegetable salad" and "vegetables", because we thought they were different salads. Unfortunately, it turned out to be one in the same salad of finely chopped cabbage, cucumber, and carrots, seasoned with oil and vinegar, no different from the usual salad, which can be cooked up at home.
– First course. This restaurant doesn't serve first course dishes (but we were informed that they are planning on re-branding in the near future and that the business lunch menu will be updated).
– Second course. Fried noodles were served with slices of pork in soya sauce, with the addition of special spices and sesame seeds. The interesting oriental taste was only spoiled with the small pieces of pork, which (to put it mildly) were not so easy to chew. The steamed rice and chicken dish impressed with their taste. No other dish of European cuisine can boast such a sweet and sour sauce. The chicken meat was just melting in the mouth, and long rice was a perfect complement to the meal.

– Drinks. Juice – not fresh, usual store-bought. Since one of the lunches does not include drink, we had an order of fruit tea "Sweet November" and we did not regret it. First of all, we got interested due to the description: "It tastes like mulled wine, the cinnamon combined with red fruit making a refreshing and aromatic drink." In fact, the taste fully answers the description, and the flavor of the tea exceeds all expectations. Perhaps now, this is the best tea which we have tried.
– Service. The waiter was polite and friendly. He didn't make any mistakes with our order. We would like to note, when we came, there were disgruntled visitors at the next table (we do not know what exactly happened, but later, the administrator came up to them and he was very apologetic: one dish was excluded from the check and they were offered a discount on future orders). It did not frighten us, because we are working for you and we wanted to check everything personally.
– Interior. It is a small place, about 6 tables. All of the furnishings are themed: Chinese lanterns, paintings. Huge panoramic windows, but, unfortunately, artificial flowers on the windowsills. The place is decorated in traditional Chinese colors – red and gold. It is noteworthy that the TV, which is hung on the wall, was showing a video about the life and work of Chinese people on the background, playing light folk music. It was a nice bonus, since many restaurants usually broadcast music or sports channels. There are also some tables outside, but they are absolutely uncomfortable, and shades do not correspond to the subject of the place. We'd like to mention the condition of the menu. The pages are falling out, the prices are either written by hand, or printed on colored strips and glued (and it only sounds bright, in fact, it's pathetic). In our opinion, it is unacceptable for the place which has positioned itself as a restaurant.
Location. Centre. Kultura Street 22B.
Type of cuisine. Chinese cuisine
Music. China National, lounge remixes.
Smoking. Prohibited in the hall. Allowed in the summer area.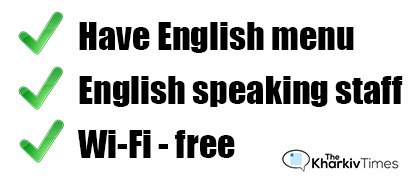 Parking. No parking.
Payment. Cash and credit cards via Mastercard, Visa.