Time. 12:00-17:00.
Price. 57-76 UAH.
Menu. There were four options offered: the number of meals is dependent on the price. For example, you can exclude salad, first course, or a main dish and the price will be deduced. There is also an offer of special additives for the lunch menu: wine, beer, ice cream, pancakes, bread. But, unfortunately, it comes at an additional cost. In order to estimate the menu fully, we chose two all-included lunches with different dishes + specific additives.
Lunch №1. Borsch with sour cream, roasted potatoes with chicken and tomato, pâté on toast with cucumber and lettuce, green tea and a glass of white wine, pancakes with jam.
Lunch №2. Chicken soup with meatballs, sliced ​​chicken in a creamy sauce, mashed potatoes, salad "A la Caprice" with tomatoes, cheese and spices, uzvar + a glass of red wine, pancakes with jam.
– Cold appetizer. In the first case, it was little toasts with a delicate pate, fresh lettuce and thin slices of cucumber. A flavored sauce made the salad rather interesting, combining sweet and spicy into an intriguing taste. The second salad consisted of tomato slices and cheese, served with sauce like the famous Italian pesto sauce. (it probably was, even though the menu stated just greenery).
– First course. Soup with chicken meatballs (super light!) and borsch.  The soup had 4 meatballs and greenery. Unfortunately, that's all. It was a bit unfair as the borsch plate was twice bigger. However, we did not regret the size – it was awesome. It seems that the famous French cooks are specialized on cooking traditional Ukrainian borsh. Unexpectedly, right?!
– Second course. Fried potatoes with chicken and tomatoes were not served on a conventional plate; we received the dish in an iron pan. It was rather satisfying, and the volume was again bigger than in the second dish we have chosen. Slices of chicken in cream sauce with mashed potatoes made a delicate pair. Very good taste combined with quality of all products.
– Drinks. Uzvar – it is a traditional Ukrainian drink made of dried fruits and berries. It was as good as the soup =). All the same, we now have doubts about the nationality of the chefs at this restaurant. Green tea – just ordinary.
– Special offer. We chose white and red wine – but, please, do not expect much from both. Pancakes were not fat and thin, as they should be. We liked the apricot-and-orange marmalade (unfortunately, the wasps adored it too).
– Service. On the street you can see the menu – there is a special stand. Initially, we wanted to sit on second floor (the terrace), but the waiter told us that business lunches are served only on the first floor or outside, so we really felt like outsiders. Never expected such discrimination.  The waiters did their job, but nothing more – they were not very welcoming, friendly or caring. Our waitress mixed up the orders and gave wrong glasses. The tea was brought along with the wine – maybe this is the new fashion to drink tea with wine? Actually, we expected tea with pancakes (weird, right?).
The restaurant positions itself as a French one. It was a big surprise that they offered traditional Ukrainian cuisine for business lunches. So, if you're hoping to enjoy oysters or frog legs, expect to find borsch and buckwheat. It would not be that bad, if the cuisine was really in the French style (maybe adopted a bit). However, the orders were served rather quickly, in 15-20 minutes. No buttons to call the waiter.
Interior. "Chateau" is translated from French as "wine estate" or "castle". There are several rooms inside; 2 floors and a terrace. The furniture is mostly wooden, wicker furniture outside. The second floor offers a nice view, and the beautiful terrace is decorated with live flowers and cute peppers in pots on the tables.
Location. Centre. Rymarska Street 30.
Type of cuisine. French and Mediterranean cuisine with unique wines.
Music. No music outside, unfortunately.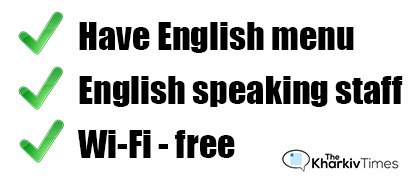 Smoking. Allowed on the terrace, not inside
*Have English menu (however, no menu for business lunches)
Parking. Restaurant does not provide parking. There are some parking places nearby the KHATOB.
Discounts and special offers. A system of loyalty cards – for regular customers, there is a food delivery service.
Payment. Cash and credit cards (Mastercard, Maestro, Visa).