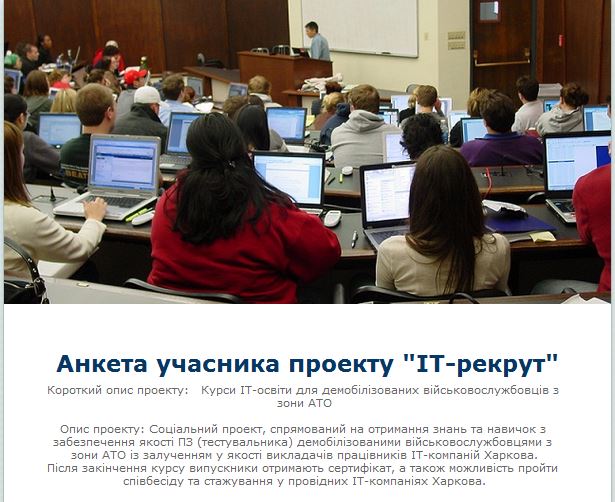 Project "IT-recruit" will be implemented by the Kharkov National University of Radio Electronics with the support of Kharkiv Regional Administration. Co-organizers are the IT-workspace and creative space "IT Hub NURE" of the Kharkov National University of Radio Electronics and Kharkiv regional union "Youth Initiatives".
This was reported by the deputy chairman of the regional state administration Yulia Svetlichnaya as informs the official website of Kharkiv Regional Administration.
"This project is a social initiative. It aims to provide real help to our soldiers returning from the area of ​​the ATO, by teaching them professions that are currently in demand in the labor market, – reported Svetlichnaya, – we will prepare testers – professionals who will be responsible for the quality of software. The project is implemented on a voluntary basis. A very wide range of partners from universities and NGOs as well as Kharkiv IT-companies responded our call for cooperation. They have already provided computer equipment and sent their experts as trainers. We are currently negotiating about engagement of international donor organizations to the project."
Anyone who wishes to take part in the project must submit a preliminary application here.