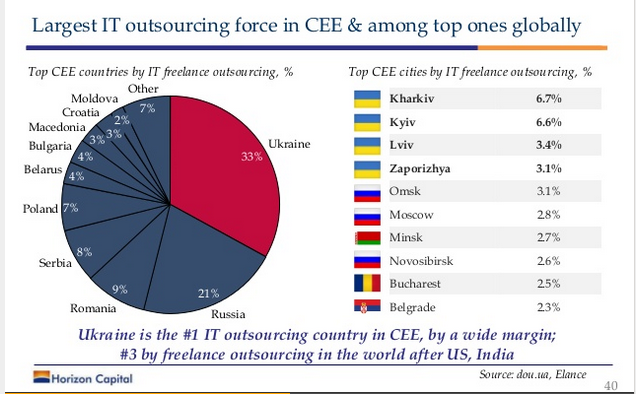 Kharkiv is the city with the largest amount of outsourcing companies in Central and Eastern Europe, while Ukraine became the #1 IT outsourcing country, by a wide margin. Our country is also on the 3rd place by freelance outsourcing in the world after US and India. Such statistics were presented by analytics from Horizon Capital.
Kharkiv became the largest IT outsourcing city with 6.7%, outpacing Kyiv with 6.6%, Lviv  – 3.4%, Zaporizhya – 3.1%, Omsk – 3.1%, Moscow – 2.8%, Minsk – 2.7%, Novosibirsk – 2.6%, Bucharest – 2.5% and Belgrade 2.3%, informs dou.ua.
Top CEE countries by IT freelance outsourcing are Ukraine – 33%, Russia – 21%, Romania – 9%, Serbia – 8%, Poland – 7%., % Top CEE cities by IT freelance outsourcing, % Ukraine is the #1 IT outsourcing country in CEE, by a wide margin; #3 by freelance outsourcing in the world after US, India.
Ukrainian programmer salaries are among the most competitive in the world. Average annual programmer salary in Ukraine is 26 000 USD and this is the 10th position in ranking after such giants as United States, Australia, UK, Canada, Israel, New Zealand, Ireland, South Africa and China.
Over 100 global companies prefer to locate software in Ukraine. For example, Samsung alone has over 1,000 engineers working on things like computer vision, information security, artificial intelligence, natural language processing (NLP), human computer interaction (HCI), computational intelligence etc.
Currently Ukraine offers foreign companies highly qualified specialists along with rather comfortable business climate for IT-outsourcing.  As result, IT outsourcing grew at 30%+ annually for over 10 years. However, some companies still face difficulties dealing with Ukrainian legislation and corruption in control organs. As we have already reported, the Kharkiv office of a big game-producing company Plarium has been searched recently.
FYI: Horizon Capital – the management company providing investments in companies with mid-cap high growth and profit potential in Ukraine and regions.
Horizon Capital manages three funds: Emerging Europe Growth Fund II, LP (EEGF II), Emerging Europe Growth Fund, LP (EEGF) and Western NIS Enterprise Fund (WNISEF).
Photos from public resource.