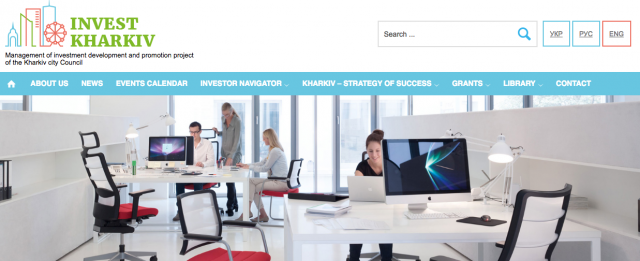 Information resource "Investor Navigator. Kharkiv" began in the test mode, reports the City Council.
The site should become a platform for effective communication between potential investors and the municipality.
"The city is ready to be a guarantor in the implementation of projects for investors. In addition, the resource is created not only for investors but for everyone who wants to move us in the direction of development of the city," said the head of investment development and image projects of the Department of Family, Youth and Sports Victoria Gretskaya-Mirgorodska.
The site presents 7 reasons to Invest in Kharkiv:
The highest investment rating in Ukraine: rating invАА.
The best in Ukraine conditions for investment.
Kharkiv heads The Association of Europe Prize winners.
Kharkiv has received the highest rating among the host cities for EURO 2012.
IT-capital of Ukraine. City of Innovation. Industry 4.0.
Political and economic stability.
The trust and support of the EBRD and the World Bank.
On the "Investor Navigator. Kharkiv " will be presented:
top 20 ranking of successful enterprises in the city;
a summary of Kharkiv IT-startups;
interactive map of houses and plots of land that are open for investment;
the statistics of the dynamics of investment in the past five years, and others.
The section "Path of the investor" presents the necessary infographics on legislation and provides illustrative examples of plans to launch investment projects in various fields.
Content sections are published in Russian and Ukrainian languages, part of the materials – for foreign partners – in English. Until 2017 the site will be in test mode. Its creators are ready for discussion and suggestions.
Recommended reads: Foreigners can get acquainted with the investment advantages of Kharkiv, Kharkiv region in top 3 for foreign investments, Unified grants registry created in Kharkiv, Foreign businessmen to invest more in Kharkiv, How easy is it to do business in Ukraine?