The Ministry of Youth and Sports paid the state bonus for all athletes team of Ukraine, which became the winners of the Olympic Games in Rio de Janeiro.
This was reported by Minister of Youth and Sports of Ukraine Ihor Zhdanov on his page on Feacebook (UA).
He recalled that at the Olympics in Rio de Janeiro, the Ukrainians have won 11 medals (2-5-4). From the state our Olympians will receive 125,000 USD for "gold", 80,000 USD for "silver" and 55,000 USD for "bronze".
In total, the Ukrainians have earned the Olympic games 2016 870,000 USD. In recalculation on the hryvnia it will be more than 22 million UAH.
Most of all among Ukrainians at the 2016 Olympics earned gymnast Oleg Vernaeve, who won "gold" and "silver" is 205,000USD. The saber fencer Olga Harlan for "silver" and "bronze" will receive 135,000 USD. Closes the top three with the largest prize canoeist Yuriy Cheban — 125,000 USD for "gold".
BACKGROUND: During the Olympic games, Ukraine has won 11 medals and occupied 31st place in the medal standings.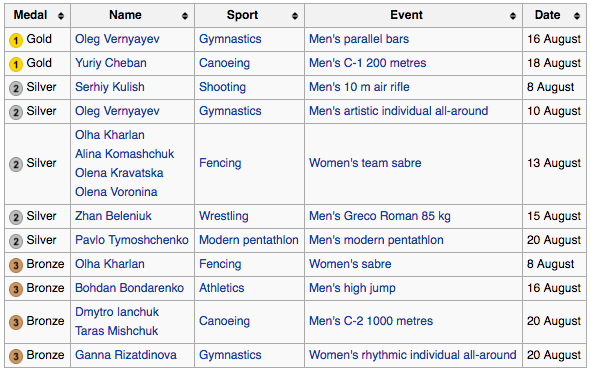 We also recommend you read: Ukraine "worst performance" in summer Olympics in its history, Kharkiven leads the top 7 most beautiful Ukrainian women at the Olympics, Ukraine scoops two Olympic medals.