A delegation of the Kharkiv National University of Radio Electronics (KNURE) held a series of meetings in Morocco in order to expand the international relations of the university, reports the press service of KNURE (RU).
The Ukrainian Embassy in Morocco held a working meeting of Vice-Rector of the University Stanislav Ignatiev and Director of International Cooperation Department Elina Medinskaya with the Ambassador of Ukraine in the Kingdom of Morocco, Yaroslav Koval.
"Today, Ukraine and its education system more and more attract the Moroccan youth with its balance between a high level of preparation of students and an acceptable cost, open society and mental similarities. Constant increase of the visas that Ukrainian diplomatic institution gives to future students, proves it: from 403 visas in 2014 to 1247 visas in 2015," stressed the Ambassador of Ukraine.
The diplomat explained that the graduates of Morocco schools choose Kharkiv with great enthusiasm, with the city having about 1,000 immigrant Moroccans. Here Ukraine is a winner in the market of knowledge economy, successfully competing with neighbors: Poland, Romania and the Russian Federation.
Rapid growth of the economy of the Kingdom of Morocco, the creation of a growing number of infrastructure projects, particularly in the field of energy requires larger number of highly qualified engineering personnel.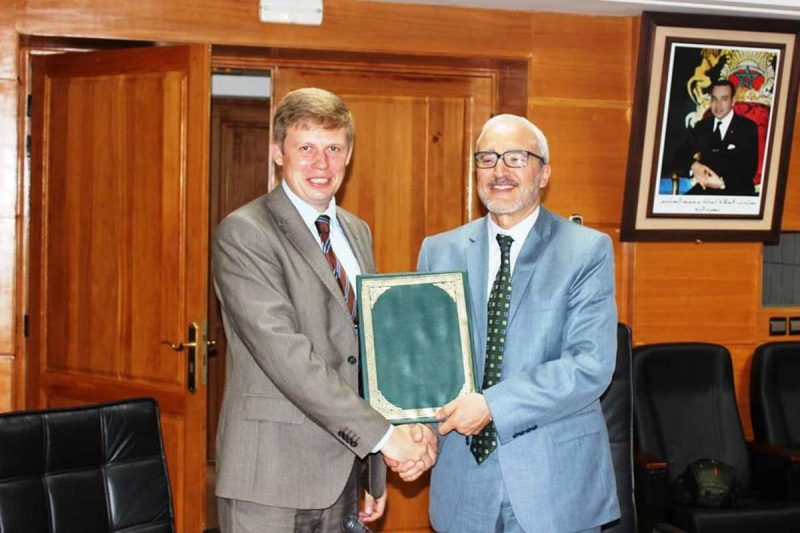 "A significant challenge for KNURE – become a competitive educational center in engineering, in particular in the field of high technology, such as IT, automation of production and alternative energy, for the Morocco's labor market," noted Koval.
In addition, Kingdom of Morocco intends to open KNURE office in the capital Rabat. It was also signed a cooperation agreement with one of the largest universities in Africa (100,000 students) – University of Sidi Mohamed Ben Abdellah (Fes, Morocco).
Other post: Foreign students choose Ukraine.