Drone.ua team has released a new product for small and medium farmers – a system of monitoring and analysis of agricultural land Zemli.online.
This automated system collects and analyzes crop data in real time, and advises the farmer how to improve productivity and reduce costs. And if the harvest is at risk, the system notifies by SMS or email, AIN reports (RU).
Data of Landsat and Sentinel satellites is used for collection of the information. They transmit a visual data, and the data of radar images, that allows monitoring the fields even in cloudy conditions.
Analysis can be supported by data from drones that give the highest picture quality. According to Drone.ua CEO Valery Yakovenko, it's the most accurate visual data collection tool available today. However, the farmer doesn't need to buy a drone – the system will give a detailed report without it.
The system also uses data from terrestrial laboratories of the company. However, the most interesting function, according to the CEO, is modules to help farmers in decision-making. They work on the basis of machine learning and intelligent algorithms to generate forecasts.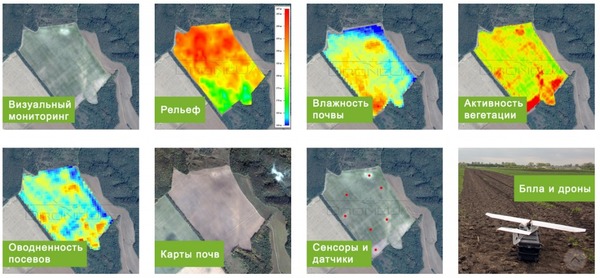 Zemli.online will also be able to predict the yield at the level of the whole country. According to Yakovenko, the players of the agrarian market are already interested in the system.
However, the product is focused firstly on small farms. "Processing system and data analytics are fully automated, so it's cheaper than satellite monitoring. Such monitoring would cost $1.5 per year per hectare. We offer a system for $9.99 per month for the whole enterprise up to 300 hectares," said Yakovenko.