Why the PayPal activity in Ukraine is so important for Ukrainians and for the local businesses? Experts of UAnet Pylyp Dukhly, Volodymyr Flonts and Ilia Kenigshtein created a comparison chart which shows all the advantages of this system.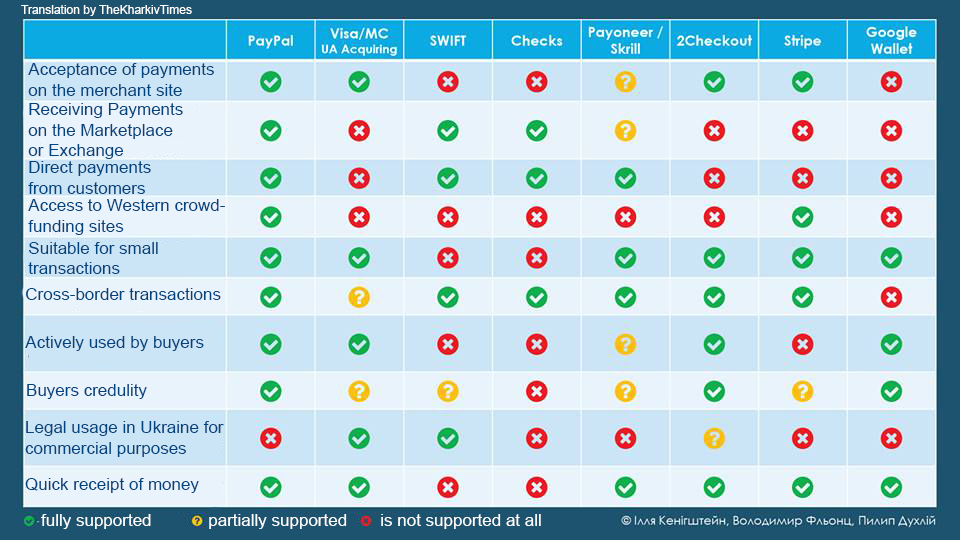 "PayPal comprehensively covers the entire spectrum of payments. Other platforms – no. PayPal is the easiest to be legalized. PayPal for us is a quick fix that allows us to quickly enter the markets," said Pylyp Dukhly on Facebook.
BACKGROUND: The negotiations about PayPal for Ukraine in March this year failed. Ilia Kenigshtein and the deputy head of the NBU Vladislav Rashkovan met with representatives of PayPal in Warsaw.
We also recommend you read: Another step to PayPal in Ukraine: the NBU allowed to receive e-cash from abroad and PayPal declines raising its presence in Ukraine.