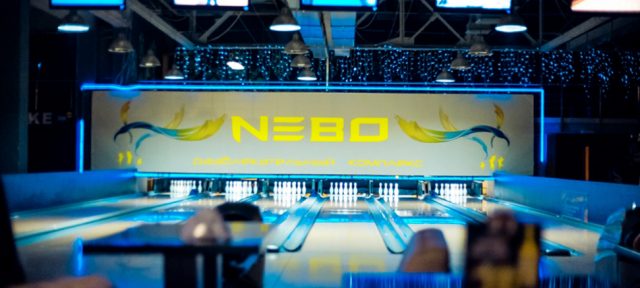 Time. 12:00-17:00.
Price. 39 UAH.
Initially we have seen the photos of lunch menu online and decided to visit this place. Here are some of them.
Below you can see the ruthless reality we have faced with.
Menu. The restaurant offers different lunch menu every day. On that day, we were offered chicken soup, pasta with chicken and salad (tea and bread were included, but we for some reason did not get them).
First course. Chicken soup is the only decent meal in this lunch menu. Nourishing and tasty, but certainly not hearty.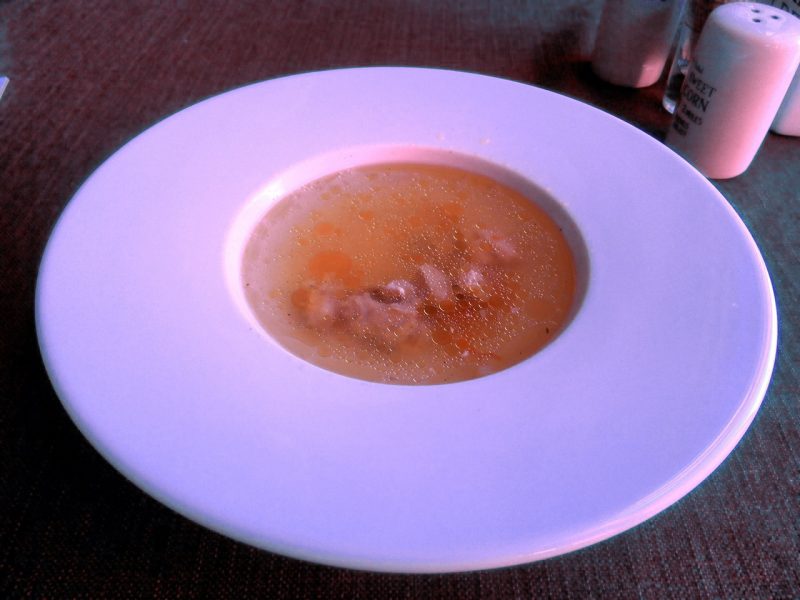 Main dish. Pasta (from customary mass market) and two chicken bones – a tiny leg and 2 wings. Chicken was well-roast, had a delicious crust. But everything was cool (and here we mean temperature). 
Salad. Average cabbage and radish salad without any sauce or seasonings.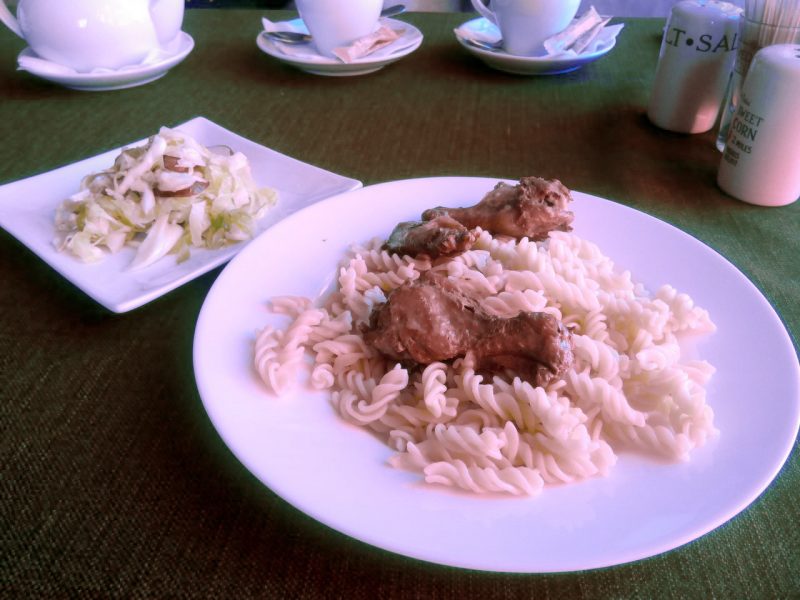 Drinks. We ordered extra tea "Drunk cherry", which was a pleasant surprise. Tea taste was rich with a very pleasant flavor. By the way, we did get our lunch tea only after "kind reminder" and a small dispute. He tried his best to play up and unscrewed that only spoiled the impression of even more.
Service. Our waiter demonstrated ordinary courtesy, though the whole impression was terrible. There was an unpleasant situation. We ordered extra bread toasts (we did not know that bread was included in the lunch menu). As a result, we got only our "extra" bread (according to the paycheck). This is not much money, but the attitude of the waiter, who began to make excuses left a negative impression.
Also you MUST pay here 10% service charge (10% is considered to be valued as a very good service). Service here definitely does not deserve such a high rate.

Interior. There are several halls with are soft and comfortable sofas. Ours has panorama windows of different colors with a good view. There are elements the film industry (the statue of Oscar, film, retro video cameras).
Location.  Shopping center "Dafi", 3 flow, Heroiv Pratsi 9
Type of cuisine. European and Asian
Music. Lounge
Smoking. There is a special smoking area.
English menu. 

✗

English-speaking staff.

✗

Parking.

✓

Free Wi-Fi. 

✓
Payment. The terminal does not work for several months.