Russian President Vladimir Putin has signed a decree of pardon Nadia Savchenko.
The presidential plane from Ukraine went to Rostov-on-Don (Russia) and brought her to Kyiv airport "Borispol".
At the airport Savchenko thanked everyone for the struggle for her, writes UNIAN (RU). "Thanks to all people who fought for me and for everyone," she said.
Savchenko thanked those who wish her well, because thanks to this she "survived", as well as those who wished her harm, because "to spite you I survived."
"I'm at liberty. I want to beg pardon the mothers whose children had not returned or dead. I can't bring back the dead, but I'm ready to die for Ukraine. Thank you all," she said.
Petro Poroshenko met with her on her arrival in Kyiv.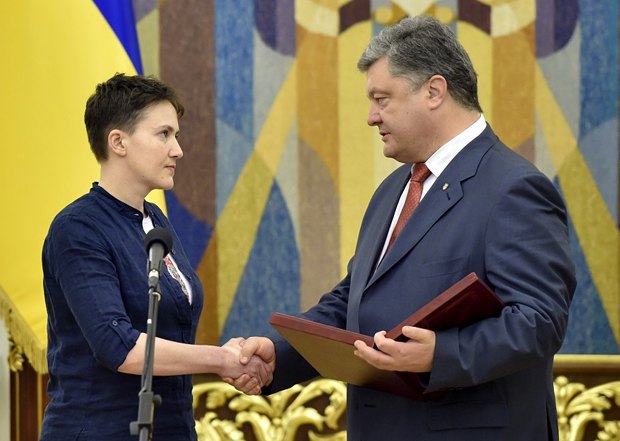 The Head of State noted that Nadia Savchenko became a symbol of pride and invincibility – so is Ukraine, that is Ukrainian woman who is an officer of the Armed Forces of Ukraine.
The President also noted the liberation of Savchenko became possible as a result of the Minsk agreements.
During the meeting Poroshenko gave the Ukrainian pilot the highest state award of Ukraine – the Order of "Gold Star" Hero of Ukraine. MP Nadia Savchenko was awarded the title of Hero of Ukraine for her invincible will, civic courage, sacrificial service to the Ukrainian people.
According to media, the long-awaited return of Savchenko was held due to the exchange for two Russians from the Main Intelligence Directorate Alexander Aleksandrov and Eugene Erofeev convicted in Ukraine for participation in the fighting in the Donbas.
Other posts on topics: Nadia Savchenko was sentenced to 22 years in prison, FreeSavchenko protest held under the Russian consulate and Kharkivens congratulate Savchenko on her birthday.