Consulate General of the Republic of Poland held a ceremony on the occasion of the national holiday of Poland – Constitution Day.
In the great hall of Kharkiv Premier Palace, the leaders of the Kharkiv region, representatives of large and medium-sized businesses, public figures and activists came to congratulate the Polish diplomats and citizens, QHA reports (RU).
Consul General of Poland in Kharkiv Janusz Yablonsky praised the attention of visitors to the national holiday in Poland.
"Poland from the beginning emphasizes the importance of contacts that unite Poles and Ukrainians, Poland and Ukraine. Ukraine is now going through a difficult period of profound reforms. We, the Poles, support the pro-European way and want to be with you," said the Consul General.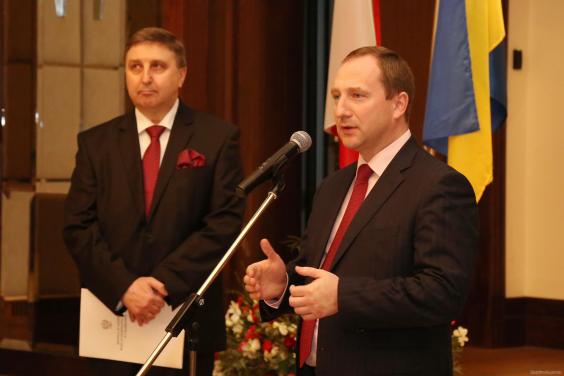 In response, the chairman of Kharkiv Regional State Administration, Igor Rainin congratulated all Poles, adding: "I want to say that good neighbors and reliable friends are always a pleasure to welcome.
"Poland is a significant player in the European Union, and for us Ukrainians, it is a reliable partner that is always ready to help. For my part, I can also assure that Ukraine and Kharkiv region are always ready to be with Poland."
We also recommend you read New Consul General of Poland in Kharkiv is interested in cooperation and The Kharkiv city was presented at the international exhibition in Brno.