At the checkpoint "Goptivka" located on the Ukrainian-Russian border in the Kharkiv region, demonstrated the feasibility of "smart borders" system, DepoKharkiv informs (RU).
It has been allocated 400 million UAH on border management in Kharkiv and Chernihiv regions. Border guards reported that for the money they equipped 230 km of anti-tank ditches, 45 km of drag road, almost 103 km lateral road and 75 km of security fence.
Also were established observation towers 17,5 m high, permanent fire position, video alignment (at each tower – two IP-cameras) – "intelligent border system", combining engineering facilities, advanced technology and it reduces the role of the human factor.
One of the elements of the system is a car "Triton", which operates on those sections of the border, where there is no possibility to install stationary surveillance. It's able to watch simultaneously 10 objectives. The machine has two cameras, which help to identify the objectives, and automatic machine gun of 12.7 mm caliber, which can hit targets at a distance of 2 km.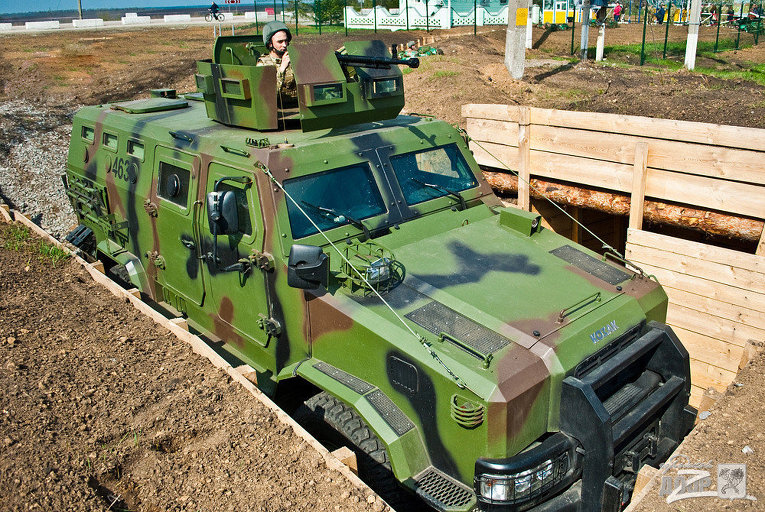 The border guards studied the experience of the USA, Israel, South Korea, but sought to adapt it to the Ukrainian realities.
"This year, we want to finish everything in the Kharkiv region and to begin work in the Luhansk region. The border requires such system around perimeter. Until 2020, if there is funding, we will provide the engineering arrangement along all Ukrainian-Russian border," said the first deputy chairman of the State Border Service of Ukraine Vasyl Servatyuk.
Overall in 2016, for such work at the border on Sumy region and controlled areas of Lugansk region in the state budget laid down 200 million UAH.
We also recommend you read Yatsenyuk cancels Kharkiv visit, France will help Kharkiv to strengthen the border with Russia and On the strengthening of the border with Russia spent 400 million UAH.