Kharkiv resident Andrey Makarov created iOS-app which called Reflash for Instagram, AIN (RU) reports.
The main function of app is a repost of photos in the Instagram, but with the help of other mechanics. Furthermore, the application allows you to work with lists of subscribers.
The principle of Reflash operation is that the user makes a screenshot of the screen with a photo, opened in Instagram. After that opens Reflash and the app automatically finds the desired photo and tightens user profile, opening the publication window.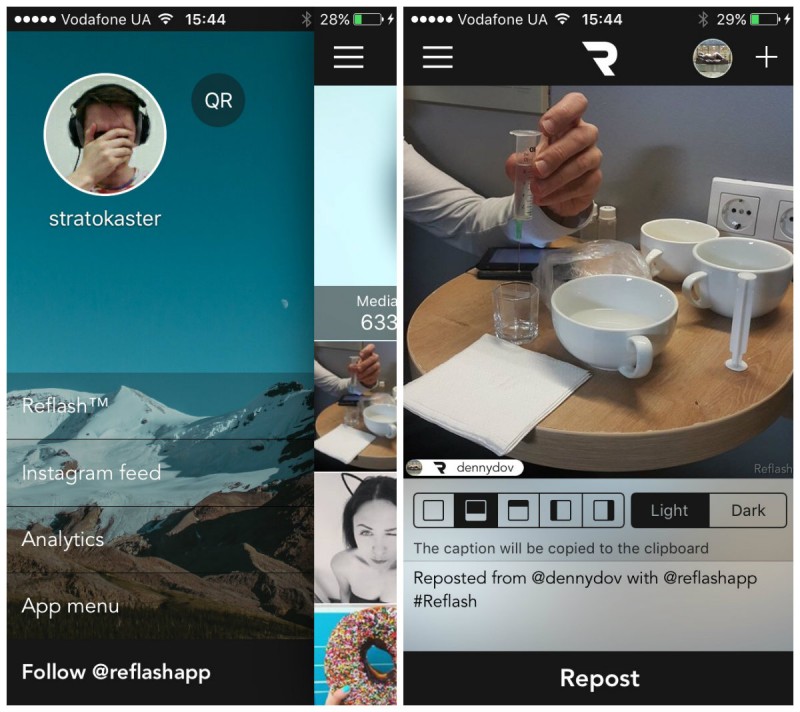 "The app will find in the user's gallery the screenshots with Instagram with the help of created by me a pattern recognition algorithm, and recognizes the photo on screenshot," explained the creator.
In the majority of similar applications, including Instarepost, the photos are had to re-look at the tapes manually. The app of Kharkiven deprives users the need to do it, and it's free.
The second part of the functionality includes the ability to work with databases of subscribers. First, the app helps you determine who is subscribed to you mutually, and who you are subscribed unilaterally to. Secondly, it helps to find common friends through other contacts.
The purpose of the application is not profit-making but social and educational function. "The app is absolutely free and without advertising. It is not aimed at making a profit. The main purpose of the application – to show that Ukraine can create high-quality products, and to inspire the younger generation to engage in and develop in the IT sphere," said Makarov.
The application is already available in the App Store for iPad, iPhone and iPod Touch with installed iOS on version 8.0.
Read more news Ukrainians created a fashionable pendant which converts voice notes to text.