Ukraine took the penultimate 225 place among 226 countries in inflation rate in 2015, according to the Central Intelligence Agency, published in the CIA World Factbook, UNIAN informed.
During the year, inflation in Ukraine has increased by almost half and accounted to 49%. Our country is ranked last – 225th place. Below, only Venezuela, because there is no statistical data.
The nearest to Ukraine countries in the ranking – South Sudan with the price index of inflation – 41.1%, Syria – 33.6%, Yemen – 30%.
The highest position of the ranking took Lebanon (-3.5%), Northern Mariana Islands (-2.5%), Afghanistan (-1.9%), Greece (-1.4%) and Switzerland (-1.1%).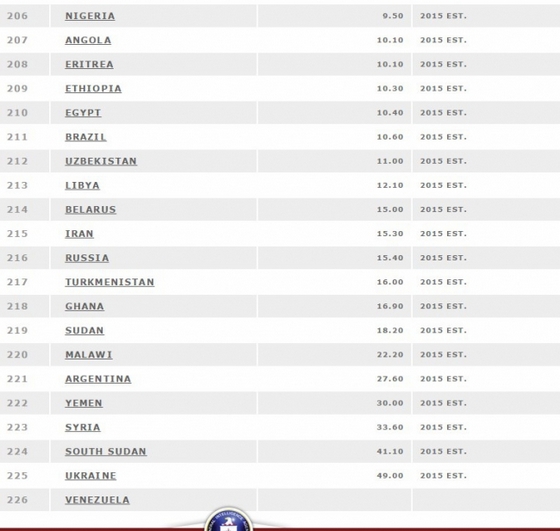 As reported earlier, inflation in Ukraine in 2015 (December 2015 to December 2014) accelerated to 43.3% in comparison with inflation at 24.9% in 2014 and reached its peak for the last 20 years.
The National Bank of Ukraine predicts a slowdown of consumer price inflation in Ukraine up to 12% following the results of 2016.
The State Budget of Ukraine for 2016 assumes an annual inflation rate of 12%, and the UAH exchange rate of about 24.1 UAH/USD.
We also recommend to read other articles Bloomberg: Ukraine is expected to raise its misery rating, World Happiness Ranking: where is Ukraine? and Ukraine took the second to last place in the ranking of the best world's countries.