According to AUTO-Consulting (RU), Kharkiv company ICM Iron Custom Motorcycles has decided to hit the world with a completely unusual super quad bike, the Quanta.
The developers decided to give it a fantastic design in the style of 2050 and unprecedented characteristics.
Motor Quanta has 600 hp that for light all-terrain vehicles (ATV) will be comparable to an engine from a supercar. At the same time, ATV will get a four-wheel drive.
At the heart of Quanta are units of the Subaru Forester, which will set in the unique space frame of the own design. Quanta will have 2.5-liter boxer turbo engine 600 hp power from Subaru. ATV is equipped with ABS and stability control system. The transmission is automatic.
Quanta's "cherries on top" are sports suspension Bilstein, carbon brakes from Brembo, forged wheels from Vossen, ultra-light tires from Pirelli Pzero 335/25R22. After ATV finishing, it will get original kit of carbon fiber and system of fingerprint engine start.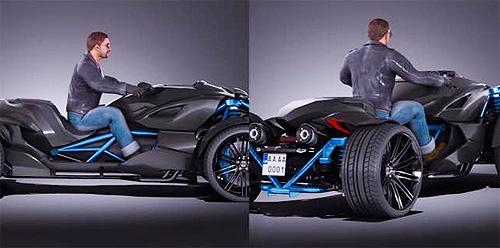 According to AUTO-Consulting, ICM Iron Custom Motorcycles plans to conduct test drive of Quanta in the autumn of 2016, and fully complete the project in the spring of 2017.
This is not the first project of the Kharkiv studio, having previously managed to take 4th place in the World Championship of Custom Bike Building. But the Quanta project will surpass all previous works by the studio.
Feel free to check our recent posts New Predator 4.0 machine unveiled in Kharkiv, Kharkivens created a unique tank and Kharkiven created gloves for the gods of music.