Kharkiv printed media published 17,8% of hidden/ordered advertising and took second place in the number of materials with features of ordered materials. The first place with 30,2% took Donetsk. Odesa and Zhitomir sheared the third place. These are the results of monitoring of regional media, which was made by Institute of Democracy of Pylyp Orlyk in February 2016 and published by MediaSapiens (UA).
The proportion of ordered advertising (political and commercial) and improperly marked advertising in regional media,% in rating, in February 2016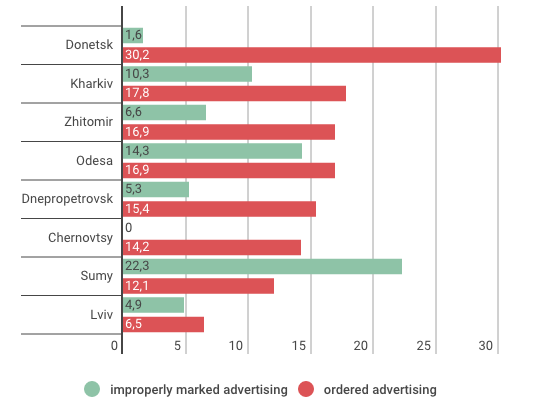 For monitoring were selected four regional printed media "Evening Kharkiv", "Time", "Slobіdsky Krai", "Kharkiv Izvestia" and four online media "StatusQuo", "Obektiv", "ATN", "Medіa port" of Kharkiv.
Experts emphasize: "It is noticeable possible parliamentary elections spirit is already present in the information space of the region. Most used PR of "Vidrodzhennia" and "Opposition bloc".
Number of ordered materials noticed in Kharkiv mass media (February 2016):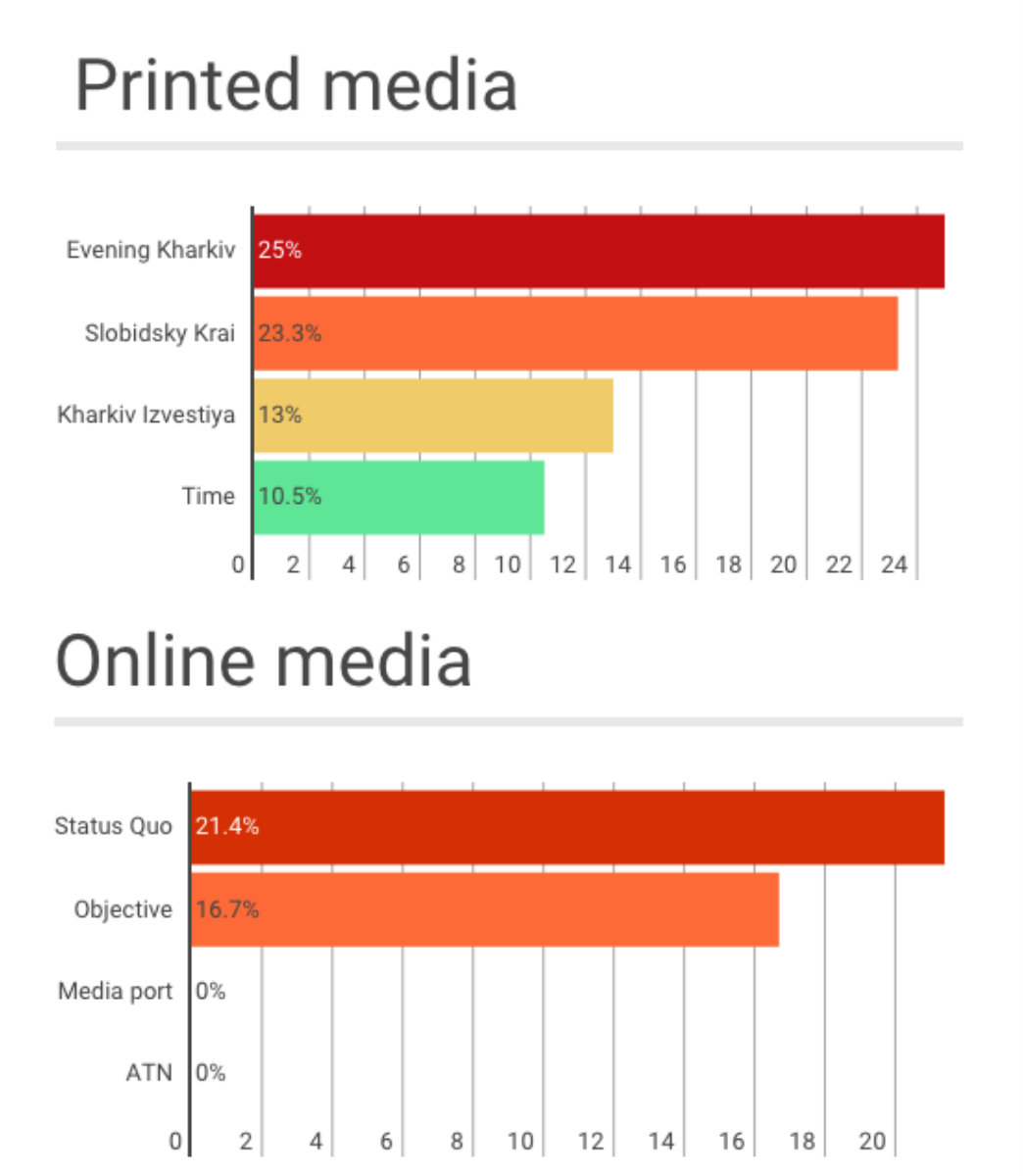 In general, in Kharkiv printed media were registered 17.8% of the ordered materials, and Kharkiv sites posted – 9.5% of the ordered materials.
"Kharkiv mass media are not very different in their content" – said coordinator of Kharkiv Expert Group Lyudmila Dolia. – "Information about the ATO area is very random, not systemic."
BACKGROUND. Monitoring of printed and online media in terms of compliance with professional standards is conducted by Institute of Democracy of Pylyp Orlyk from September 2014 in Lviv, Donetsk, Kharkiv, Sumy, Dnipropetrovsk, Odesa, Chernivtsi and Zhytomyr regions.
The criteria for selecting media were: social and political importance, concerning the interests and rights of the majority of citizens; own content; the number of udience; circulation or site visits.
Monitoring compliance with journalistic standards occurred on six criteria: 1) the balance of opinion/views; 2) efficiency; 3) reliability (link to source); 4) separating the facts from comments; 5) accuracy; 6) completeness representation of facts/information about the problem.