Time. 12:00-16:00.
Price. 24-67 UAH.
Menu. The menu offers a choice of two dishes from each position. You can order a single dish (24 UAH) and four courses (52 UAH). Dessert and drink for an extra charge: 9 and 6 UAH. Portions are very large but the presentation of dishes is not a restaurant styled. Price fits the quality.
– Salads. Pickled tomatoes were too salty and not sour at all. Our decision to add wine vinegar saved the second salad – Cabbage with carrots.
– Soups. Light and very nourishing chicken broth pleased us with its flavoring qualities. There were small pieces of chicken and pasta. Mushroom cream-soup was not insipid, but did not leave any special impressions.
– Hot dishes. Chicken fillet on the grill was juicy and moderately toasted. Pork goulash was tender and melted in the mouth, but the sauce was too fat!
– Garnish. Pasta were a bit dry (we do not want to think that they were already cooked and just warmed up). Rice was with butter, crispy and tasty. But all this is too much like the homemade food.

– Dessert. Cottage cheese casserole were moderately sweet and airy. Chocolate cake – very small, dusted with powder, it looked very sadly at the plate.
– Drinks/beverages. Everywhere cafes and restaurants offer uzvar … Seems weird. But it never disappointed us. Here it was also good.
Service. As we later learned from the check – an intern served. So, it all spelled out. We understood why we did not get dessert cutlery and we were forced to re-call the waiter. Also she mixed up our orders, though she repeated them to check. Nevertheless, she seemed rather friendly, maybe she just did not have enough experience.
Interior. This is a basement, with no windows. The restaurant has one room, which is cozy, with lots of pictures. According to the restaurant website, most of the details of the interior were brought from France (as well as their Chef =) . In any case, they perfectly suit the "French motiveі".  The restaurant meets you with not very pleasant food smell  – this may indicate that the cooker hoods do not work well.
Location. Centre. Hotel Reikartz. Sadovaya Street 4
Type of cuisine. French. Although as in Chateau business lunch menu does not have anything in common with the classic French cuisine … it's a pity.
Music. Romantic French melodies.
Smoking. No.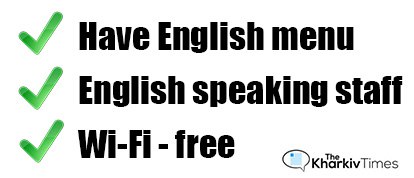 Parking. Yes.
Payment. Cash and credit cards cards Mastercard, Visa.