The spear running "Cup of the First Capital – 2016" will be held on February 20-21 in Kharkiv. On February 20 – elimination round in fight center "Krepost"/"Fortress", on February 21 – final and group fights on the arena of the Old Circus (Marshala Malynovskogo square 17).
According to the organizers, the tournament will reconstruct the most authentic atmosphere of joust. The competitions will be held in the categories "shield-sword", "buckler – sword", "professional fights" and "fighting 3 × 3".
For the participation at the tournament "Cup of the First Capital 2016" have already applied more than 30 sportsmen from Kyiv, Odessa, Mykolaiv, Vinnytsia, Sumy, Zhytomyr.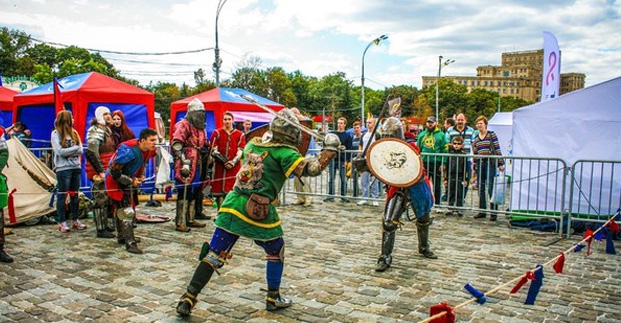 A peculiar cherry on top would be a separate women's nomination "Shield-Sword" in which will participate female warriors from Kharkiv, Vinnytsia and Odessa. This is a full nomination where female fighters will divide a title of the best fencer.
After the completion of the tournament the participants and guests can celebrate the event in "Bro-bar" which offers visitors: delicious cuisine, darts, billiards, table soccer.
Note that the spear running "Cup of the First Capital 2016" – the largest tournament of historical fencing in Kharkiv organized by the Sports Club of historical fencing Ritter (in Russian only) in 2009. It is held annually since 2013.