On December 14 at 11:00 in Drobytsky Yar was held a mourning rally dedicated to the tragedy during the occupation of Kharkiv by the Nazis in 1941-1942. The event organizer is MP, president of the Ukrainian Jewish Committee Alexander Feldman encouraged all non-indifferent to join the mourning rally.
"Drobytsky Yar entered the history of the Second World War as an example of the "new politics" of Nazi Germany on the occupied territories. The memorial erected in the place which has become a mass grave for more than 16 thousand people," noticed Alexander Feldman.
To lay flowers at the memorial in Drobytsky Yar gathered Kharkiv Jewish organizations, children of war and pupils. Participants of the event honored the memory of the prisoners who died in the concentration camps with a minute of silence.
Near the memorial made a speech the second secretary of the Embassy of Israel in Ukraine Nelly Shulman, the chairman of the board of shareholders of PJSC "Concern AVEC about Ko" Boris Feldman, the head of the Security Service of Ukraine in Kharkiv region Alexander Pivovar.
Nelly Shulman noted that today is outside of politics and national prejudices because it is referred not only to the liquidation of millions of Jews but to the loss of humanity which will remember a lot of generations.
The Chief Rabbi of Kharkiv Moishe Moskovitz read commemorative Judaical prayer. After the rally the participants laid flowers at the memorial stone.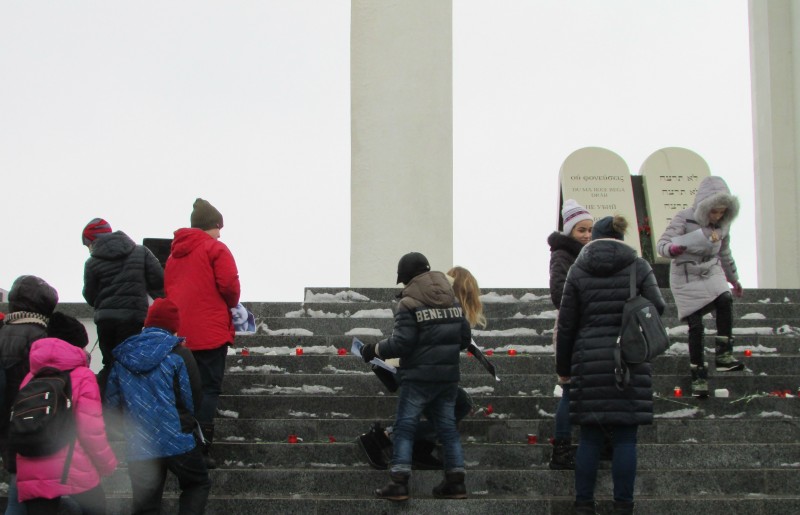 "'74 ago in this place was a tragedy for Kharkivens, for the Jewish, for all humanity. The Nazis massacred here tens of thousands of civilians including my grandmother only because they were Jews. I have come here to honor their memory. That time will forever remain in my memory…" shared her memoirs child of war Renada Aleksandrovna who was 5 years old during the occupation of Kharkiv.
Recall that during the occupation of Kharkiv more than 16 thousand Jewish people were killed in Drobitsky Yar. Today only 4 thousand names of them were restored.