The initiator of theatrical art project actress Irma Vitkovskaya together with the team not only transferred the money from the sale of tickets for the performance to the Kharkiv children's specialized institution but also visited children with special needs.
According to the head physician of the Kharkiv regional specialized orphanage №1 Roman Marabyan, all the funds will be spent on the purchase of medical and rehabilitation equipment for young palliative patients.
"On the account of our charity fund "Hippocrates 88″ from the sale of tickets we received 73 467 UAH, and volunteers of the orphanage gathered from audience donations in the amount of 25 015 UAH. It means that our children's home received in total 98.5 thousand UAH thanks to this action," said Roman.
The production of "Oscar and the Lady in Pink" with Irma Vitkovskaya and 9-year-old Mark Kirilchuk in the lead roles Kharkiv viewers saw for the first time.
According to the actress, the idea of ​​this project was born back in 2013 when was held Rusya Aseyeva's photo exhibition "Dіti, yakih ne іsnue/Children that are not exist". With the help of performance Irma Vitkovskaya and likeminded people want to reach out society and pay attention of Ukrainians to the problem of palliative care.
"We couldn't find better work than Eric-Emmanuel Schmitt's "Oscar and the Lady in Pink". Moreover, we first in Ukraine combined two genres on the stage – animation and theater that looks very organic. Our project was supported by Svyatoslav Vakarchuk and the group "Okean Elzy", painter Andriy Yarmolenko … In our team there is also Kharkiven – Nikita Titov. He is one of the authors of the artistic group," explained Vitkovskaya.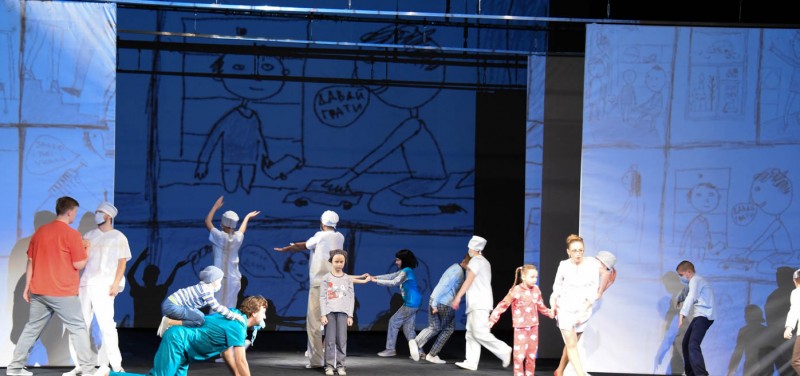 The organizers assured that Kharkivens will have opportunity to see this performance one more time.
"Thanks to everyone who came to the performance, who donated their funds and those who support our special children in this difficult time of war!" thanked Kharkivens Roman Marabyan.