Tonight, December 9, about 1:30 am the explosion occurred in "Roshen" candy shop, which is located in the shopping center near the metro station "Geroev Truda". Shopping center security guard heard a loud bang and contacted police.
According to eyewitnesses, shortly before the incident at a gas station (located next to the commercial establishments), they saw a man in a yellow jacket with the word "Ukraine".
Blast wave knocked out glass windows and doors, no one was hurt. Press secretary of the prosecutor's office of Kharkiv region Vita Dubovik commented on the case: "Perhaps, an unknown person threw a grenade RGD-5 in the shop window. Now the investigation is underway, the data is checked".
The incident is qualified under Part 4 Article 296 (hooliganism) and Article 2, Part 194 (intentional destruction or damage of property) of the Criminal Code of Ukraine.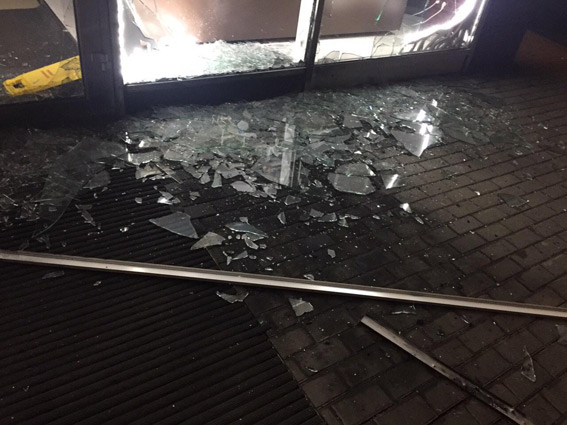 Attention! If anyone knows any information on this fact, please contact the police by phone 102, 093-708-29-88, 067-55-91-055, or any convenient way for you in the Kiev police department, address: Kharkiv, Artema Street, 49, phone: (057) 700-43-04, (057) 70-59-914, (057) 705-99-81.