Soon may appear the most protected tank in the world created by talented enthusiastic for the Ukrainian fighters. The team of mechanicians headed by Kharkiv engineer has developed a unique fighting machine "Azovets". And the prime cost of the one of such machine – about $ 5 million.
Tank "Azovets" is a gathering of non-standard and rather expensive engineering solutions. The machine is huge because of four security levels that make it invulnerable practically for all modern anti-tank weapons. The first level – 40-mm armor covering the entire area of ​​the tank with a double layer on the bottom. The second level consists of blocks of active protection which crush enemy projectile to pieces and change its trajectory. One such block costs about $ 200 and "Azovtsev" will have 500 blocks. Under the main armor of the tank is a layer of aluminum carbide – the third level of protection. And the fourth level – the T-64 tank hidden under the armature which itself is equipped with a 100-mm armor.
Despite the impressive armature "Azovets" is enough mobile to maneuver successfully in urban environments, assured the engineers.
"We were given a technical task – to make the machine maximum effective in the current war when the front-line operations are not prioritized. Each engineering solution was discussed with specialists of the regiment "Azov" in online mode," said the head of engineering group and former Technical Director of the Malyshev plant Nikolai Stepanov.
To create one fighting machine took a year and millions of dollars for the team of engineers. A considerable amount was collected with the efforts of volunteers and benefactors from all over Ukraine.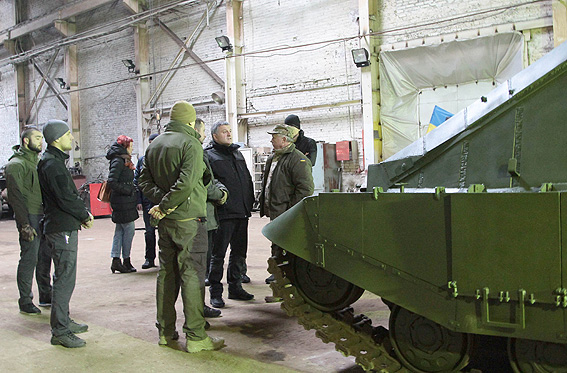 "If all goes well we will consider the results of the tests and next year will order several machines at one of Ukraine enterprises for series production," said the Interior Minister Arsen Avakov, adding that the equipment will be purchased for the needs of the National Guard and the Armed Forces of Ukraine.