The delegation includes representatives of Georgia and Odessa who were involved in the creation of the Citizen Service Center in Kharkiv. The delegation arrived in Kharkiv on November 10th, informed the press service of the City Council.
The representatives of Georgia and Odessa visited Office of the professions and the Center for Providing Administrative Services (CPAS) of the Kiev district.
The delegation also had meeting with the mayor of Kharkiv Gennady Kernes. The mayor emphasized that Georgian experience is important for our city for the realization of such a large project as a regional center for providing administrative services.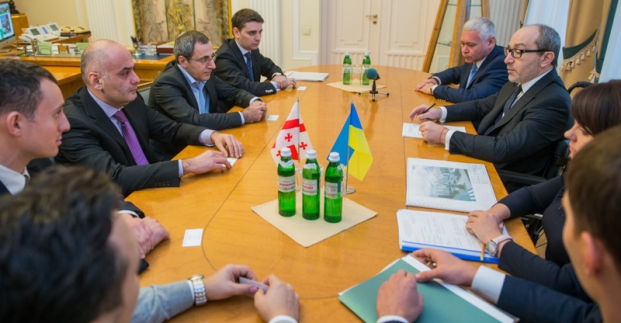 "We have city CPAS that has operated since 2011 and has shown good results. Now it's necessary to open a regional center. I also decided that in the building of the Technical Inventory Bureau will be the center for administrative services. As a result, in Kharkiv will be two major centers and 10 local taking into account regional centers if you help us," said Gennady Kernes.
The delegation noticed the high level of organization of the Centre for administrative services in Kharkiv. They think that they can also learn certain moments of Kharkiv organization system.
"We are ready to help Kharkiv strongly in the construction of the regional center. In the next few days we will study the plan and the draft of this project. The mayor said that this is our common project and we see in Kharkiv a huge potential in this sphere," said Levan Duchidze, business analyst and coordinator of external relations of the organization "Initiatives for better Ukraine".
Such centers in Kharkiv and Odessa are focused on fight against corruption and formation of a single space for transparent cooperation between authorities and citizens.
Feel free to check the recent post on topic: Georgian experts will reform Kharkiv's administrative system.