The publication "The Epoch Times" developed an interactive map of Kharkiv, where the point of reception of various waste are marked. The map shows the location of the points where you can drop used batteries, fluorescent lamps, thermometers, plastic or glass bottles, paper and even old unnecessary things.
If you click on particular point – you will see an address, a phone number, working hours, the name of the company, which is engaged in this activity. Now any citizen can find the nearest point in the city.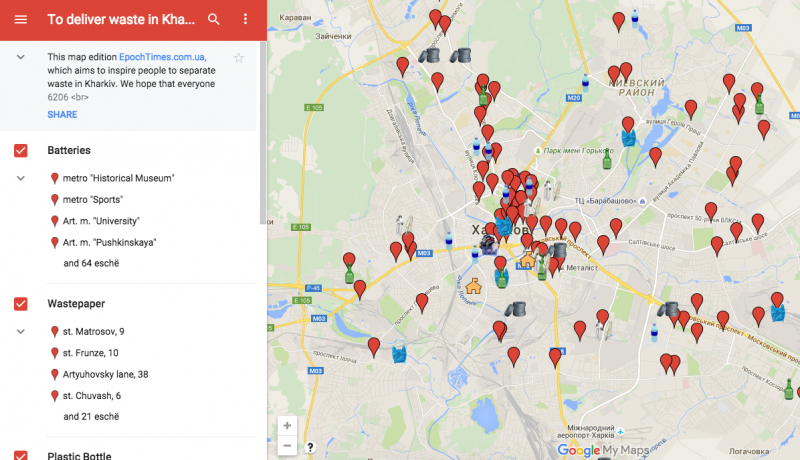 "It turns out that 87% of Ukrainians are worried about the state of the environment," says one of the project coordinators Eugene Dovbush, "95% of them are ready to do something to protect the environment."
"The problem is not that people are indifferent, but rather that many people do not know how to help to preserve the environment," says Eugene Dovbush. Therefore, the idea of a simple-to-use map arose.
As for the unnecessary things – clothes, shoes, books, souvenirs, toys, etc. – you can take them to a charity shop "Cupboard of good things." 80% of the items are passed to charitable organizations, 20% – put up for sale at affordable prices. The money from the sale is donated to charities and organizations.
You can support separate waste collection in the city:
Separate waste, do not dispose of everything in a common trash bin.
Send a map to friends and acquaintances: click on the word "Share" at the top of the map (Facebook, Twitter, Google+).
If you find an error, or can share about the receiving point of waste which is not specified on the map, feel free to email edovbush@epochtimes.com.ua.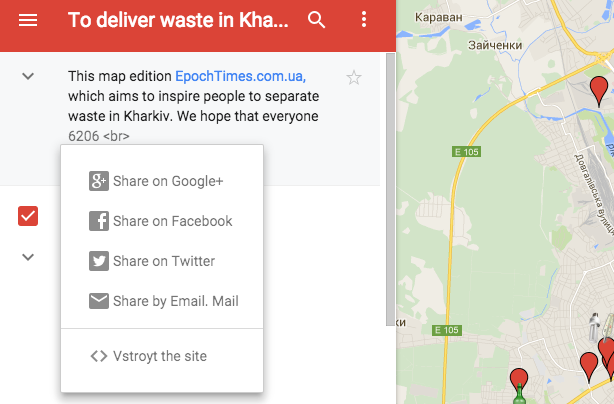 Warning! Batteries, batteries, fluorescent lamps and thermometers are a dangerous waste, they require separate collection in special processing plants. For example, the decompose time of plastic is 200 years minimum.
Recall, interactive map of appeals to city council was created in Kharkiv and the website of Kharkiv new police has been updated.