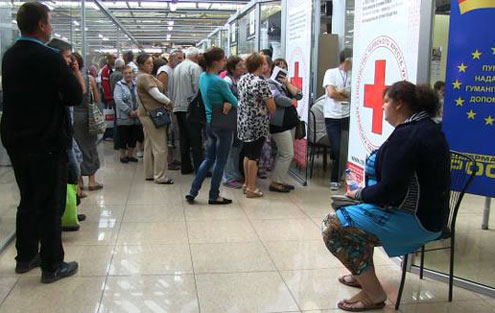 The deputy mayor of Kharkiv, Svetlana Gorbunova-Ruban, reported that 102 thousand IDPs (internally displaced people), who arrived in Kharkiv from the Donetsk and Lugansk regions, registered in the district offices of labor and social protection of Kharkiv.
She also believes that, in addition to the registered IDPs, there are also around 50-70 thousand persons who did not apply for social state aid. Around 37 thousand families have applied for state compensation for accommodation. "The Kharkiv centers of employment have received more than 300 applications from internally displaced persons and a little more than 100 of them are now employed. There are also people who work informally, but also not a very large number," informs Svetlana Gorbunova-Ruban.
Recall, according to the director of the Department of Labor and Social Policy Larissa Bolgova, in May 2015, there were 88.2 thousand people registered in Kharkiv.
FYI: the compensation is 844 UAH per month for disabled persons (pensioners, the disabled, underaged) and 422 UAH for the unemployed able-bodied persons. If the people of the latter category do not manage to find jobs within two months, they will be deprived of these benefits.