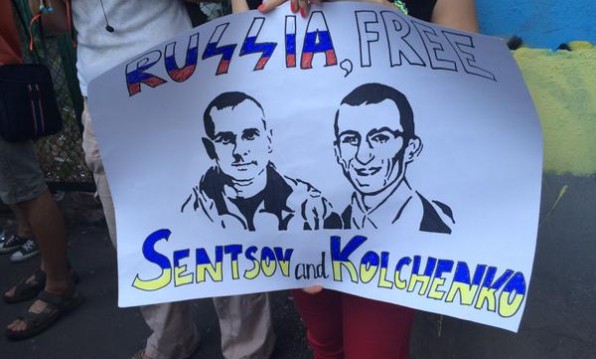 On Wednesday, August 26, according to our estimates, about 100 people gathered at the building of the Russian consulate in Kharkiv. Among them were activists and colleagues of Sentsov: actors, artists, and designers from Kharkiv.
According to the initiator of the action, Ivanna Yagubova-Skiba, the goal of this event was to express support for Sentsov, Kol'chenko, Nadezhda Savchenko, and other Ukrainians, illegally detained in Russia, to show that they are not alone.
The rally started with participants singing the anthem of Ukraine, shouting "Glory to Heroes!" and other patriotic slogans. They were holding posters, reading "Freedom to political prisoners!", "A great betrayal begins with a little coward!" and others.
Recall: the North Caucasus District Military Court sentenced a Ukrainian director Oleg Sentsov to 20 years and Alexander Kol'chenko to 10 years in a colony with a strict regime for charges of organizing terrorist at
tacks in the Crimea. They plead not guilty.
According to investigators, Sentsov created in Crimea a terrorist organization aiming to make Crimea separated from Russia, which was a subdivision of the "Right Sector" that is forbidden in Russia.