Ukrainian startup Betegy has closed a deal with one of the largest world sports sites – Yahoo Sports.
Now the site features a section on sports analytics from Euro 2016. These include forecasts for each game, the winner of the forecasts for the championship, as well as the rating of the strongest teams, AIN informs (RU).
To make predictions they use a modified version of the algorithm, developed by the Ukrainian team. It is based on the classical mathematical models, but takes into account the specific additional factors for the championship.
It is worth noting that during the World Cup 2014 this startup correctly predicted the winner of the tournament, as well as all four semi-final teams.
Rating of the most powerful commands made on the basis of performance of each player in each game and is updated after each match.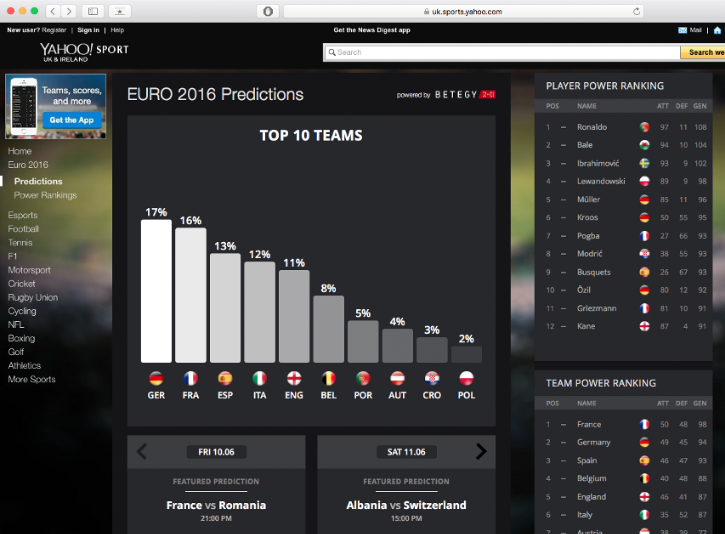 "Interest in the sport predictions is growing at an incredible pace, and statistics become an essential part of the experience of the fans. The partnership with Yahoo is a great opportunity to provide forecasts for Euro 2016 to millions of fans," says startup CEO Alexey Kornilov.
Yahoo Sports was prepared to launch a new product in the UK and European markets, and they were seeking a football analytics – forecasts for the games, ratings, information for fantasy sports (game, composition of virtual teams, which are selected on the basis of the results of real players). Betegy's solution them suited.
By Ian Nolan's (Head of Yahoo Sports) twitter, Yahoo is also satisfied with cooperation. Section for Euro 2016 is the first stage, Ukrainian startup will continue to work with Yahoo Sports on other projects.