Time. 12:00 – 16:00.
Price. 75 UAH + 10% service
Menu. Three sets with 3 courses: soup, salad, hot dish and a drink of your choice  (coffee, tea, juice, water or uzvar).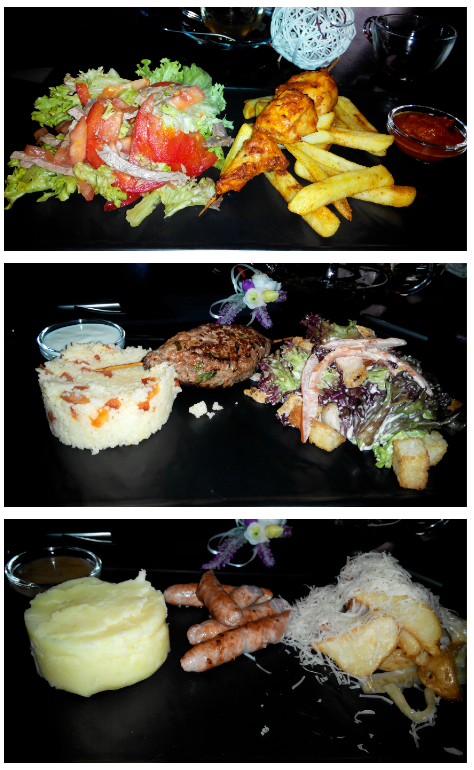 Set № 1. Solyanka (salty soup) with smoked meat. Salad with veal. Shish-tauk with fries.
Set №2. Vegetable cream-soup with feta cheese. Salad with chicken and marinated mushrooms. Kebab (a dish of minced lamb into small fried cutlets or sausages with hot spices and herbs) and couscous with vegetables.
Set №3. Soup with Chicken-balls. Salad with sausage and cheese. Nuremberg sausages with mashed potatoes.
– Salad. In the 1st set salad was decent but nothing special, quite delicious. The mushroom and sausage salad from the 3rd set was really good and the salad from the 2nd set was just nothing.
– First course. Salty soup of the first set, was probably the best. Rich flavors (perfectly sour because of the lemon served)  and we bet high-calorie =) If you are against the calories, better try the soup with chicken-balls – very light and diet one. Broccoli cream-soup with feta cheese was really delicious and seems it was also very healthy for those who care about calories.
– Second course. Set №1 pleased us with divinely soft shish tauk – shashlik from chicken. The kebab was insipid, not enough spices/salt – we do not recommend it, accompanied with the same non-tasting cuscus. The Nuremberg sausages with mashed potatoes were probably the best variant of second course but it was strangely combined with the mushroom-potatoes-sausage salad (so you eat potatoes with potatoes in different dishes).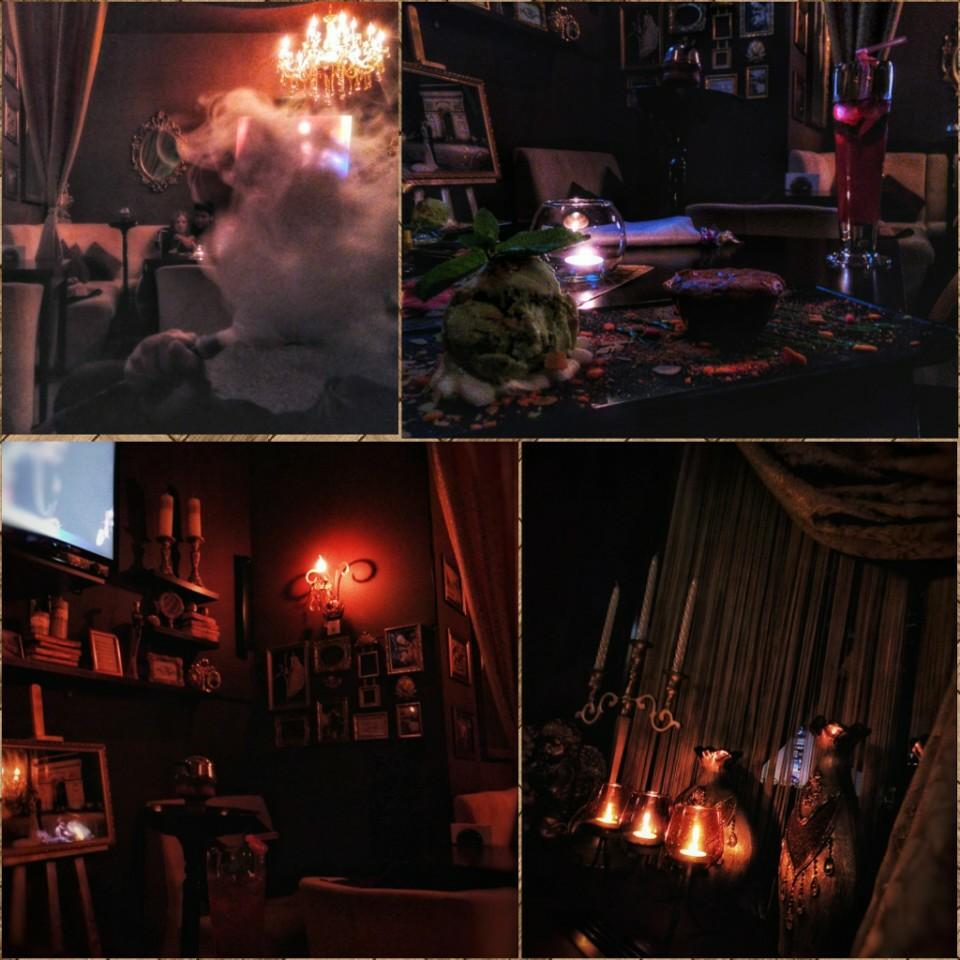 – Beverages.
We did not take the drinks from the lunch menu but ordered a really wonderful cherry tea with cinnamon. It had a very rich and natural flavour as it was made from real fruit and spices. So, we highly recommend it!
– Sauces. Each set got
some special sauce that underlines the good taste of quality dishes.
We would highly recommend the set #1, you may also like the #3 but in the set #2 only the soup is good enough. 
Service. The waiter was very attentive, interested in your preferences and asked if we were satisfied with the meals. It was probably the best quality service we ever met during the lunch reviews, the highest level. Thanks for this. There was also the call-waiter button.
We got the good day wish on our paycheck – so cute!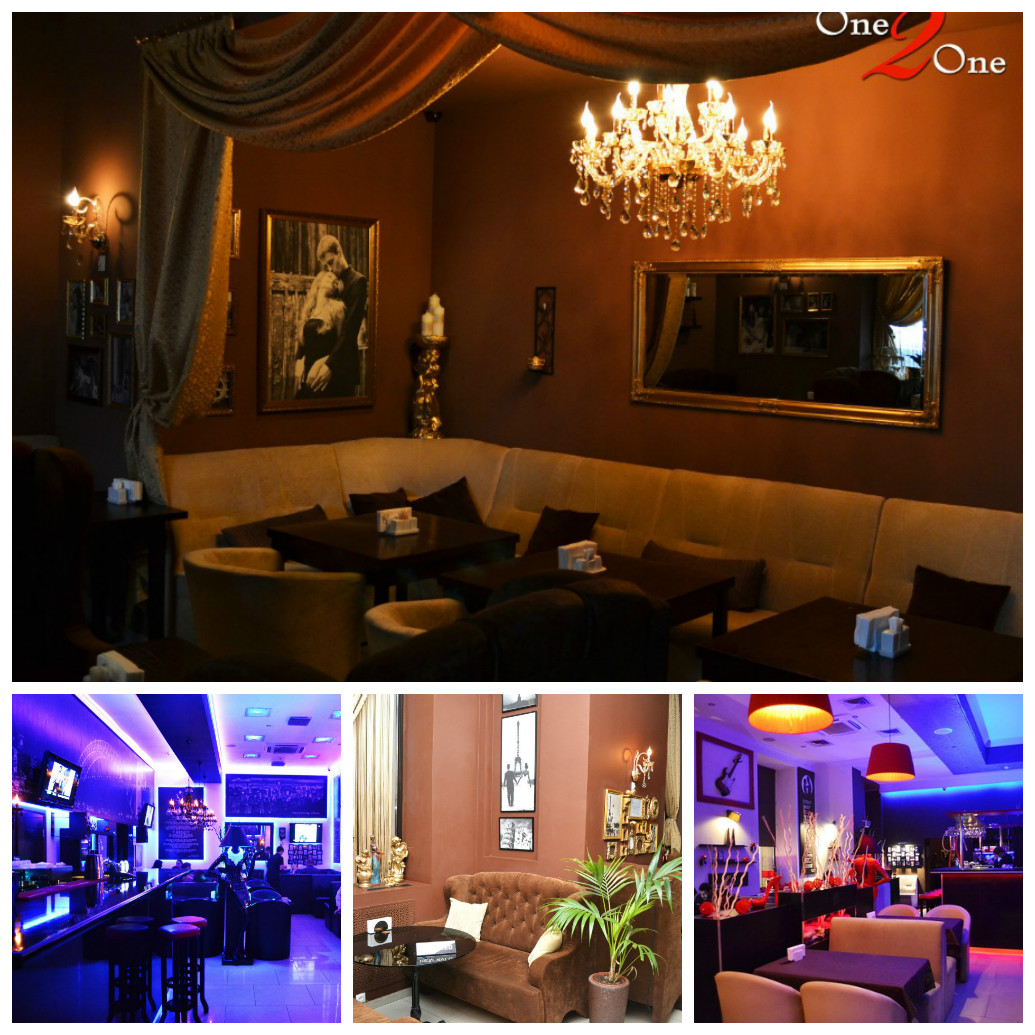 Interior. The restaurant is divided into two rooms. Big hall is designed in Art Nou
veau style – a stylish combination of black and white complemented by red accessories. The interior of the second hall is more fancy – chocolate walls with big photos, mirrors in massive golden frames, comfortable furniture. The decor makes you feel in the atmosphere of a rich cozy estate. It is always dark inside. 
Location. Centre. Petrovsky Street, 7.
Type of cuisine. European.
Music. Lounge, very good Video Collection broadcasted on the screens.
Smoking. You can order a hookah.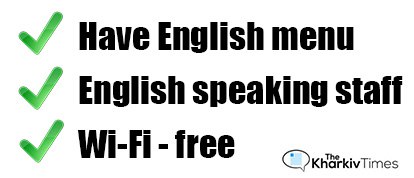 Have English menu. Only basic.
English-speaking staff. Yes – the place is known of the good English-speaking staff.
Parking. There is.
Payment. Cash and credit cards: Mastercard, Visa.